Quality Control of Die Casting for the Automotive Industry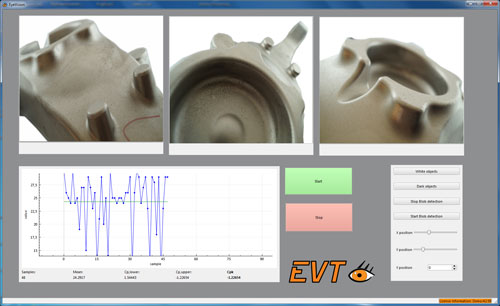 It is a simple principle: the lighter the car the more economical in fuel consumption. The car emits less CO2 and needs less fuel. In addition the EU ordered a specific reduction of greenhouse gas emissions for the automotive industry: until the year 2020 the CO2 emissions of automobiles should be reduced to 95g/km.
A consistent realization of the light weight construction is one consequence. And a resource efficient technology for the production of lightweight parts is the aluminum die casting. This is a procedure, where liquid aluminum is poured into a tool form and the completed cast part can be removed after the aluminum has cooled down.
To guarantee the quality of the cast parts, a flawless casting and machining of the parts is important. A completed quality management can be realized for example partly with industrial image processing.
Due to the thermal and chemical stress during the casting process is a big challenge for the quality of the structural elements. Because the surface of the form is damaged little by little more and more. Therefore the quality of the surface of the cast part is becoming gradually worn out.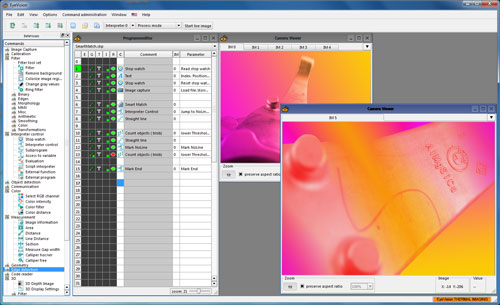 In this perspective, the machine vision system such as the EyeVision software in combination with a high resolution camera, has more than one task when it comes to die casting: first, with an EyeVision inspection program the surfaces of both, form and cast part, can be inspected. The system can detect scratches up to only a few µm on the surface.
Second, there are errors and structures, which can not be detected on the surface. Those can be made visible with CT, X-ray or thermal imaging. The EyeVision software e.g. can be combined with thermal cameras for various makers and has a vast command set for thermal imging.
To live up to the complex structural and surface quality the EyeVision software can come up with an easy-to-program drag-and-drop system. The graphical user interface can be handled intuitively completely without programming skills. Additionally, with the Layout Manager the user can create individual process interfaces. This helps to make the handling of the quality inspection easier for the staff. And with the new PlugIn System the user can create own commands and integrate them into the graphical interface.
Company Contact
Klara Steinschneider
Tel: +49721 668 004 23(0)