Precision Welding Robots Rev Up Motorcycle Frame Production
POSTED 01/01/1900
 | By: Sally Fairchild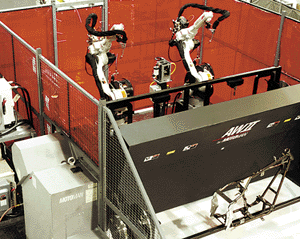 Challenges
Increase manufacturing capacity to 50-60 frames per day.

Reduce dependency on a small number of skilled manual welders.

Make 56 cosmetically perfect welds per frame on 3.175 mm (.125") mild steel.

Achieve cycle time of 15-20 minutes per weld cycle.
Motoman Solution
Motoman provided two identical ArcWorld 6016HD solutions. Each system includes:
Motoman SK16 robot with MRC controller

MRM-500 heavy-duty headstock/tailstock (HS/TS) positioner with 3 m (118") between HS/TS and weight capacity of 113.4 kg (250 lbs) per side (226.8 kg /500 lbs total)

Kobelco LS350 power source with welding interface

Tregaskiss Torch 400-amp, air-cooled with shock sensor

Standard start-up kit with .035" wire

Motoman 200-V High-Speed Touch Sensing

Operator station

Motoman XTC Torch cleaner with anti-splatter on 1,829 mm (72") stand

Motoman wire cutter

Programming platform 3.24 m L x .62 m W x .61 m H (127.6" x 24.4" x 24") with two sets of steps

Common base for MRC and welding power source

Motoman Toolsight™ (torch alignment program)

Integrated work cell protection, including safety fence, mats, and one dual-interlocked gate
Fixtures/Tooling
The customer provided simple mechanical fixtures that were integrated into the robot system at Motoman.
Frames are tack-welded together prior to being manually loaded onto the positioner fixtures by an operator. Safety features inherent to the ArcWorld 6016-HD system allow the operator to unload/load one side of the positioner while the SK16 robot is welding on the other.
Touch-sensing is used to compensate for minor variances in part fit-up. Cutomer is making ongoing upstream enhancements to improve fit-up and reduce the amount of touch-sensing required.
Operations Sequence
Operator loads pre-tacked frame onto simple holding fixtures and manually clamps them into place. Operator steps off safety mats and activated cycle start buttons on operator station. Positioner indexes to present parts to welding robots. Welding cycle initiates automatically. Coordinated motion is used between the SK16 robot and the external axis, since the headstock/tailstock repositions the part while the robot is welding.
While the SK16 robot welds on the other side of the positioner, the operator unloads welded frames from the fixtures and loads a pre-tacked frame. The cycle repeats to continue production.