Pre-Harnessed Cable Carriers Withstand High Speeds and Accelerations
500,000 cycles per year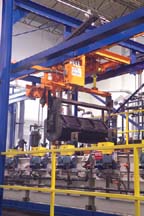 EAST PROVIDENCE, R.I. – August 13, 2009 – Jessup Engineering uses pre-harnessed cable carriers from igus® on its overhead hoists for the metal-finishing industry. The cable carriers replace umbilicals, which were not suitable for high speeds.
Jessup Engineering began manufacturing programmable-hoist automation for the metal-finishing industry 37 years ago. Its hoist systems are designed to be a flexible and efficient method for wet dip-processing. The goal is to deliver technically advanced, easy-to-use, and reliable equipment. Jessup's engineering departments consistently strive to refine the company's machine designs in line with this.
One trend towards higher productivity and higher speeds resulted in new system builds for the overhead hoists using cable carriers to replace umbilicals, which can be unstable at high speeds. Now the hoists can run faster and more material can be processed in less time.
igus' rugged, plastic System E4/100 Energy Chain® cable carriers guide and protect moving cables on the hoists at speeds between 150-250 feet per minute and accelerations of 3.3 feet per second². The typical length of travel per cycle is 10 feet, with an average total range of travel up to 100 feet and cable loads of around 1.5 pounds per foot. The total number of cycles is estimated to be around 500,000 per year.
System E4/100 cable carriers are well suited to applications involving high speeds and accelerations, long travels and heavy loads. They have a dirt-repellent exterior and are insensitive to shocks and vibrations.
An added benefit of the cable carriers is that they give a cleaner look and improved functionality to the Jessup's machinery, as well lending a quieter operation. They are also corrosion-resistant, which is important as the cable carriers are exposed to chemical fumes rising up from the dip tanks.
Jessup purchases the cable carriers as fully harnessed ReadyChain® systems, pre-installed with igus' continuous-flex CF5 power cables and CF11 encoder cables. Harnessing had previously been carried out in-house, but this had taken a long time.
Chainflex® cables are ideal for flexing applications on all types of automated machinery. The range includes control, data, bus, position feedback, fiber optic, coax, servo, power and robot cables.
igus offers its pre-harnessing services as a way to help companies increase production throughput, improve delivery lead times to customers, reduce inventory and procurement costs, and improve speed to market.
All igus products are available directly from stock with no minimum order. Call 1-800-521-2747, visit www.igus.com or e-mail [email protected] for more information.
About igus
igus develops industry-leading Energy Chain cable carriers, Chainflex continuous-flex cables, iglide® plastic plain bearings, igubal® spherical bearings, DryLin® linear bearings and guide systems. These seemingly unrelated products are linked together through a belief in making functionally advanced, yet affordable plastic components and assemblies. With plastic bearing experience since 1964, cable carrier experience since 1971 and continuous-flex cable since 1989, igus provides the right solution based on 70,000 products available from stock. No minimum order required. For more information, contact igus at (800) 521-2747 or visit www.igus.com.
igus, Energy Chain, ReadyChain, Chainflex, iglide, igubal and DryLin are registered trademarks of igus Inc. All other company names and products are trademarks or registered trademarks of their respective companies.