Plastic Plain Bearings for Ski Bindings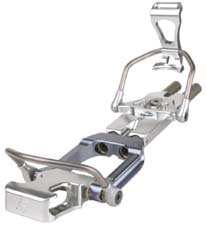 EAST PROVIDENCE, R.I. – A Colorado-based manufacturer has incorporated iglide® plastic plain bearings from igus® into its high-end, telemark ski-bindings, which has both created a more reliable product and virtually eliminated maintenance requirements.
Defective ski-bindings risk the health and life of a skier, so it is vitally important that every component work efficiently at all times. iglide L280 bearings are used in the knuckle, which enables the heel of the skier's boot to raise and lower with each turn. iglide J bearings are used in the rear cases, of which there are two per binding set.
The ski bindings had to be low profile and able to fit into a limited space. They also needed to be lightweight, since telemark skiers are very weight conscious. iglide low profile, lightweight plain bearings proved ideal for both these design requirements.
The bearings also had to be able to last for the entire lifetime of the product, or be easy and quick to replace. iglide bearings were ideal, since they have a long, predictable service life and are easy to install. They also possess a high tensile strength and can handle the high-level impacts involved when skiing. They absorb minimal moisture and can withstand the low temperatures encountered out on the slopes.
iglide L280 – which igus has nicknamed 'The Marathon Runner' - offers especially long life, extremely high wear and dirt resistance, and a low coefficient of friction. iglide J offers low wear against different shaft materials, a low coefficient of friction, low moisture absorption, and is vibration dampening.
For more information, call 888-803-1895 visit www.igus.com.
About igus
igus develops industry-leading Energy Chain® cable carriers, Chainflex® continuous-flex cables, iglide plastic plain bearings, igubal® spherical bearings, DryLin® linear bearings and guide systems. These seemingly unrelated products are linked together through a belief in making functionally advanced, yet affordable plastic components and assemblies. With plastic bearing experience since 1964, cable carrier experience since 1971 and continuous-flex cable since 1989, igus provides the right solution based on 70,000 products available from stock. No minimum order required. For more information, contact igus at (800) 521-2747 or visit www.igus.com.