Plastic Bearings Offer Major Cost Savings
Plastic bearings replace bronze in camera jibs for the film industry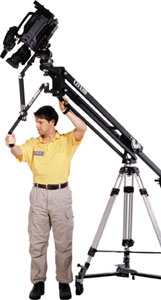 EAST PROVIDENCE, RI – April 24, 2009 – EZ FX uses iglide® plastic plain bearings from igus® on its camera jibs for the film and video production industries. The bearings replace bronze bushings that required messy lubricants and frequent maintenance.
The EZ FX Jib and the Junior Jib are used to create sophisticated moving camera shots and also add production value to film sets. By making the switch to self-lubricating iglide bearings, the jibs are lighter-weight, less expensive and maintenance-free.
iglide G300 and iglide M250 plain bearings are used to enable the jib to pivot a camera weighing up to 50 pounds in a seesaw motion. The plastic bearings eliminate metal-on-metal contact, which prevents corrosion between the aluminum rod of the jib and the steel nuts and bolts. iglide G300 and M250 are also economical, so EZ FX is able to reduce costs.
"We see many benefits from the iglide bearings," said Steve Bonin, owner of EZ FX, "They reduce friction, are lighter-weight than bronze and are cleaner to work with. They offer major cost savings, which is great for us and our customers."
To read more application stories from igus, visit www.igus.com/applicationcorner. To request 2009 catalogs or free samples, call 1-800-521-2747.
About igus
igus develops industry-leading Energy Chain® cable carriers, Chainflex® continuous-flex cables, iglide plastic plain bearings, igubal® spherical bearings, DryLin® linear bearings and guide systems. These seemingly unrelated products are linked together through a belief in making functionally advanced, yet affordable plastic components and assemblies. With plastic bearing experience since 1964, cable carrier experience since 1971 and continuous-flex cable since 1989, igus provides the right solution based on 70,000 products available from stock. No minimum order required. For more information, contact igus at (800) 521-2747 or visit www.igus.com.
iglide, igus, Energy Chain, Chainflex, igubal and DryLin are registered trademarks of igus Inc. All other company names and products are trademarks or registered trademarks of their respective companies.