PIAB's Vacuum Gripper System Plays Key Role in Robotic Tote Assembly Solution
Flexible End of Arm Tooling Cuts Costs and Prevents Injuries
The Challenge: Developing a Cost Effective and Ergonomic Tote Assembly Solution Due to a number of economic and social factors, including the advancements in automation technology, the rise in overseas manufacturing and the increased awareness of employee safety, the robotic industry has significantly expanded over the last decade. As a result of these trends, companies who currently use robots, and those who are considering using them in the near future, have an incredible opportunity to significantly cut costs and prevent injuries to employees.
''As US manufacturers face stiff competition from cheap overseas labor rates, we have experienced a steady influx in requests for robotic automation solutions,'' said Sean Wells, Senior Engineer at Promatech. ''Companies are also turning to robotic automation in order to prevent employee injuries, from on-the-job accidents.''
Sean Wells is a senior engineer at Promatech LLC, a robotic systems integrator that has developed more than 100 different customized robotic solutions over the past few years. Promatech, headquartered in a state-of-the-art, 13,500 sq. ft. facility in New Berlin, Wisconsin, designs and deploys robotic models from Fanuc, Yamaha, Motoman and ABB.
''Our customers have always looked to us for new technological solutions to improve manufacturing automation processes, in order to get a leg up on their competition,'' said Wells.
Promatech specializes in applications such as machine tending, traditional and non-traditional palletizing, robotic routing, drilling and deburring, case packing and robotic inspection. The company's customers include manufacturers in the consumer products, food processing, foundry, metalworking, machine tool and plastics industries.
Most recently, Promatech's engineers were requested to develop a solution for automating tote assembly; the customer wanted to reduce material handling time and prevent workers from having to do unnecessary bending, lifting, and other movements that could be detrimental.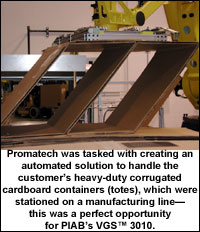 The Solution: Customized Robotic Assembly with PIAB's VGS™ 3010 vacuum gripper system
In order to come up with the most ergonomic and cost-effective solution, Promatech designed a tote assembly system that incorporated a 4-axis M-410iB/160 articulated arm robot from FANUC, and a dual-function vacuum gripper from PIAB Vacuum Products.
The dual function vacuum gripper system, PIAB's VGS™ 3010, made up the end of arm tooling on the robot. The VGS 3010 is a newly released unit that features DURAFLEX® suction cups and COAX®, a proprietary multi-stage ejector technology.
''COAX® integrates the internal components of a multi-stage vacuum pump into a vacuum cartridge'' said John Holmes, Packaging Manager at PIAB. ''The result is a smaller, more efficient, more reliable and highly flexible technology that allows users to design a modular system.''
The VGS™ 3010's vacuum pump is integrated in a single unit, called a ''Gripper.'' This avoids the pressure loss problems inherent to traditional vacuum systems that utilize a centrally located vacuum pump. Additionally, the pump can function at operating pressures below 45 psi, providing reliability even in the case of a breakdown in the air pressure network.
Another major factor in choosing PIAB's VGS™ 3010 was the durability of the suction cups. Because they are made from specially developed polyurethane named DURAFLEX®, the suction cups can easily grip porous leaky materials and coarse, uneven or curved surfaces.
''PIAB's DURAFLEX® suction cups allow for safe and stable lifting, and they are particularly good for handling corrugated boxes.'' said Wells.

Result: Customer Cuts Production Cost and Relieves Employees of Back Strain
In the fall of 2004, Promatech put the new automated tote solution to the test with one of its largest customers, a well-known consumer products manufacturer.
''The customer's existing assembly process required two employees to manually lift the bulky totes and hand-assemble them on individual pallets,'' said Wells. ''This was a labor-intensive operation with the potential for repetitive motion injuries and muscle strains.''
Promatech was tasked with creating an automated solution to handle the customer's heavy-duty corrugated cardboard containers (totes), which were stationed on a manufacturing line—this was a perfect opportunity for PIAB's VGS™ 3010.
Promatech installed a total of 9 VGS™ 3010 units, each with 3.5'' suction cups, on the arm of FANUC's M-410iB/160 4- axis articulated arm robot, which is FANUC's latest-generation palletizing industrial robot.
Almost immediately after the new tote assembly solution was installed, the customer realized a cost savings of 8 hours per day, allowing the company to reassign one of its full-time workers to a more productive task.
Additionally, the customer has now eliminated any unnecessary bending, lifting, and other movements that could be detrimental to its employees. Also, because the new system uses so much less floor space, the customer's employees have a more open, less cluttered working environment with room for additional machines where totes were stacked at the beginning of each shift in the past.
The positive results from this project prompted the customer to commission Promatech and PIAB for a second project involving multiple Fanuc M-410iB robots performing high-speed multi lane, multi product palletizing of finished products.
Sean Wells and his team are very glad to have PIAB's vacuum technology as a key part of his company's tote assembly and robotic palletizing solutions.
''The VGS™ 3010 'Gripper' met all of our needs for speed, ease of use and flexibility,'' said Wells. ''It has made it much easier for us to design and integrate end of arm tools for our robots.''