Noxzema/Olay Reduces Costs by Using Robotics
Cosmetic jars and bundles of lids are automatically palletized and stretch wrapped, saving time and labor. The ROI was realized within 18 months.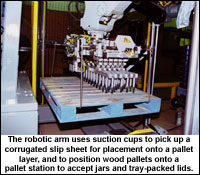 Stretch-wrapped pallet loads of Noxzema and Olay skin care jars and lids have just come off the palletizing line at Wheaton Pharmaceuticals. This end-of-line solution was designed and custom built for Wheaton by Schneider Packaging Equipment Co., Inc., Brewerton, NY. Empty jars and bundled trays of lids are automatically palletized, using an integrated Motoman 4-axis robot and Schneider shuttle car system for unit load transfer to the ITW Mueller Octopus stretch wrapping system.
Before adding the Schneider system, the plant used a labor-intensive process involving manual palletizing.
''Two huge machines running one line at a time took up the same space as the new robotic system that works with four lines at a time,'' says Noé González, Wheaton's technical support manager. ''There was an accumulation conveyor at the end of each molding machine and a clamp system that pushed the jars forward over a pallet, which lowered one level at a time until completed. This required an operator at all times. Slip sheets had to be manually placed on every layer and a significant number of jars fell due to erroneous movement of the system.''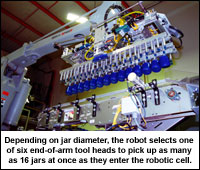 The new Schneider system is totally automated from the manufacturing line to the truck. Now at Wheaton's Plant No. 2 , a 1,600-square-foot facility in Cayey, Puerto Rico, the empty jars exit the molding machines onto their own lift elevators where they are brought up to an 84-inch height above the ground and conveyed to the palletizing cell. There are four overhead in-feed conveying systems for the empty jars. The overhead in-feed conveying system for the bundled trays of jar lids will be the fifth line which is scheduled to be installed and running in June 2003.
The fully enclosed palletizing system is programmed to allow operators to switch back and forth between various size jars and bundled lids. This is accomplished through an ancillary Allen Bradley Control Logix PLC control system with an operator interface.
The system's end-of-arm tooling is flexible enough to handle all of the various size jars along with the bundled trays of lids. This tool is also designed to pick empty pallets from the automatic pallet dispenser and place them onto one of four pallet load stations. The automatic pallet dispenser signals the robot that a pallet is present by use of photo eyes and also alerts an operator when the dispenser's pallet levels are low via a beacon light and alarm.
Using suction cups that travel on a vertical linear rail, the Schneider slip sheet dispenser automatically picks a slip sheet and raises it up to a designated zero datum point for the robot to pick. The robot is responsible for picking slip sheets from the dispenser and placing them onto the pallet. The robot will then pick the empty jars, one row at a time from one of the four in-feed conveyors and place the jars onto their designated pallet. After a full pallet layer has been stacked, a slip sheet is placed by the robot onto the layer and operation continues
until a full pallet load has been completed.
This palletizing system is programmed to run seven different jars sizes and styles along with two different sized bundles of lids. There are four sizes of Noxzema jars: 2.5oz., 6 oz., 10.75 oz. and 14 oz. and there are three sizes of Olay jars: 50 ml, 60 ml and 100 ml. The end-of-arm tooling has a six-zone pick system that has different size manifolds to accommodate the various size jars. The tool also has been modified to accommodate for the new tray line. This allows the same tool that picks the individual jars to also pick the bundled trays of jar lids. In 2003, these bundles of lids are running on the new fifth line that Schneider has designed and built to be integrated into this existing system. An upstream machine fills each pocket on a plastic tray with lids, then stacks and straps ten trays horizontally and then vertically. These strapped trays then transfer onto the new in-feed line and are conveyed up to a 84-inch height with the other four in-feed conveying systems for the jars.
Once a full unit load has been completed, it exits the loading zone via a drag chain pallet conveyor. On queue, the Schneider shuttle car transports the full unit load to the stretch wrapper. After the load is fully wrapped it is discharged onto an accumulation section of conveyor where it will be picked up by the forklift operator.
Wheaton had initially contacted three primary vendors to bid on this project. ''Most of the vendors told us 'these are the models we offer,' however Schneider developed and engineered a system that was customized to our needs and space requirements,'' says González. Noé González and Wheaton Puerto Rico General Manager, Rafael Benitez, met with Wheaton engineers Glenn Estad and Dan Lock at the Schneider facility to discuss the project.
''The equipment runs well and we have not had a need for any service on it. I've been impressed with the Schneider equipment from the beginning,'' says.González. ''We rely on it every day. We realized our return on investment for the system in approximately 18 months.''