Next level of pharmaceutical inspections – Case Sea Vision
Quality assurance is of utmost importance in pharmaceutical products. Striving for the world where drugs are reliably monitored and tracked, SEA Vision has introduced hyperspectral inspection solution HARLENIR, the combination of SEA Vision software and Specim camera technology which reveals the chemical composition of a pharmaceutical product and guarantees 100% inspection coverage, accurately and reliably. SEA Vision chose Specim FX17 since it was the only hyperspectral camera on the market to meet their requirements of speed and spectral resolution.
SEA Vision is a leader in the pharma industry and a pioneer in applying artificial vision in pharmaceutics quality inspection. It was founded in Italy, Pavia as a university spin-off in 1995, and produces top-quality vision systems solutions to Pharmaceutical companies and packaging machine manufacturers.
Throughout their existence, SEA Vision has been striving to provide the highest quality vision systems for the pharmaceutical industry. They rely on the latest innovations and the best technologies to improve their product portfolio for quality inspection and to comply with regulatory guidelines. This goal is supported by their technical and R&D department's high competence in software algorithms which meet the unique needs of Pharmaceutical customers and OEMs business.
All this has made SEA Vision the leader of their field.
Quality beyond the visible inspection
To provide the pharmaceutic industry with the highest quality best solutions, SEA Vision has introduced a new generation of blister inspection technology that goes beyond visible inspection: hyperspectral imaging.
Hyperspectral imaging provides a reliable way to perform a chemical composition inspection of pharmaceutical products during the production process. This is particularly important with products that are visually similar but have different proportions of active pharmaceutical ingredient (API).
With hyperspectral imaging, each tablet or capsule can be quickly and reliably identified from their active ingredients. 100% of the products can be inspected, online, in real time.
The chemical analysis allows
qualitatively to identify pharmaceutical products with different active principle.
quantitatively to identify pharmaceutical products with a different dosage, and to measure the uniformity of the active ingredient distribution
"In an era of increasing regulation and quality control, the industry needs to improve inspection methods. Systems like HARLENIR provide extra peace of mind for drug manufacturers," explains Vittorio Calbucci from SEA Vision R&D department. "To this aim, we installed HARLENIR system on a blister machine provided by one of the most important Italian OEM. The idea was to check the presence of foreign tablets with different API respect the tablets with the right chemical compounds, and tablets with the same API but different dosages.".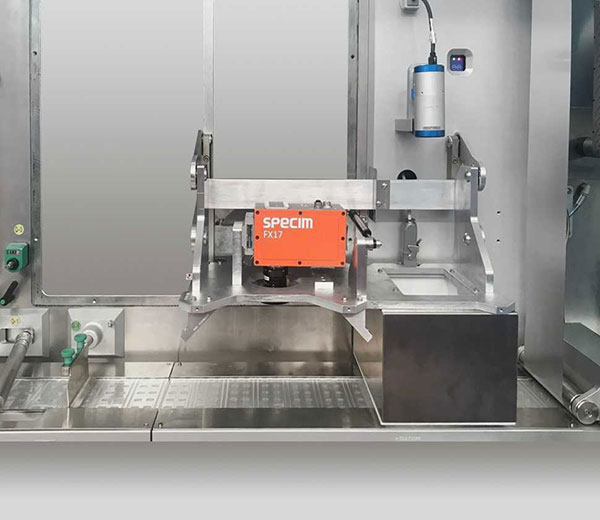 Why Specim?
Inside SEA Visions HARLENIR solution is Specim FX17 camera.
"We chose the system which best satisfied the customers' requirements," says Calbucci. "We always choose the best technologies for our products, and Specim camera fits our needs."
Before deciding on Specim FX17, SEA Vision evaluated several different technologies versus hyperspectral imaging, such as THz spectroscopy or the combination of a standard vision system with a fiber optic spectrometer. However, with the first technology, the resolution and speed were too low while with the second solution it was not possible to inspect the whole sample. Hyperspectral imaging was chosen as it is possible to perform chemical analysis in a fast way and with high spectral resolution in combination with color camera imaging which provides an accurate check of pictorial and geometrical parameters of the objects.
Since the acquisition rate is so high, the hyperspectral camera can be installed directly over the production line. It will image the targets as they pass the camera on the conveyor and collects data of the whole surface of the target, covering every pixel of every inch.
The production line where HARLENIR with Specim FX camera is used produces up to 3000 tablets per minute, which requires an acquisition frequency of close to 500Hz. Specim FX17 frame rate of 640 Hz is good enough to cover the whole production. Specim FX17 compact size also allowed it to be installed in a small space without compromising the technical quality.
The Specim FX camera is ready-to-use, and SEA Vision was able to perform the first chemical analysis already on the first days after installation. For the few technical glitches, there was good and timely support available both directly from Specim as well as from their Italian distributor.
SPECIM FX17 cameras are designed for industrial use, and every camera is calibrated to provide the same output. Thus if there is a need for maintenance, the camera can be swapped to a replacement unit on the fly without compromising the production.
Specim benefits in a nutshell:
high frame rate
high spectral resolution
small size
ready-to-use
good and timely support
What is to come
In addition to the tablet inspections, SEA Vision has already tested the Specim FX17 camera and hyperspectral imaging on other applications, where it worked as expected. In the future, they expect hyperspectral imaging to help to widen their product portfolio and develop new solutions.