Material Flow Solution - Thorough Rationalisation in Production and Distribution is an Absolute Necessity
Since expensive production machines can be run in three shifts only if the automation is integrated, particular attention must be paid to the periphery and, above all, the gripping systems.

Schmalz is the world's leading partner for vacuum gripping systems in automation technology. Innovative and complete vacuum automation systems permit a smooth and fully automated material flow. The reduced set-up times result in shorter amortisation periods. Multifunctional palletising and depalletising systems ensure high productivity and availability, together with optimal utilisation of the available working area

These and other benefits convinced a customer, who was looking for a supplier to build and equip the material-flow and handling periphery for their production lines for folded cardboard boxes.

Schmalz was commissioned with the design and manufacture of a multifunctional vacuum gripper. This gripper, mounted on an articulated-arm robot, grips the corrugated-cardboard boxes full of folded cardboard boxes, or the bundles of folded boxes, for transfer from the production lines to the pallets.

The problem:
Rationalisation of the periphery of three parallel gluing lines for folded cardboard boxes.
The cartons containing the folded boxes must be palletised fully automatically, including the insertion of intermediate layers of cardboard.
Optimal utilisation of the pallets and thus of the available storage space.
Short cycle times, high availability of the system and free access to the production lines.
Products: corrugated-cardboard boxes and bundles of folded cardboard boxes
Length: 200 to 700 mm
Width: 180 to 400 mm
Height: 200 to 480 mm
Weight: about 3 to 25 kg (in exceptional cases 30 kg)
Intermediate layers of cardboard:
Size: 800 to 1200 mm
Grammage: 200 to 700 g
The requirements:
Total output of the three lines: about 600 cartons (12 pallets) per hour
Gripping time <1 s
Release time <1 s
Flexible adaptation to different corrugated-cardboard boxes or bundles of folded boxes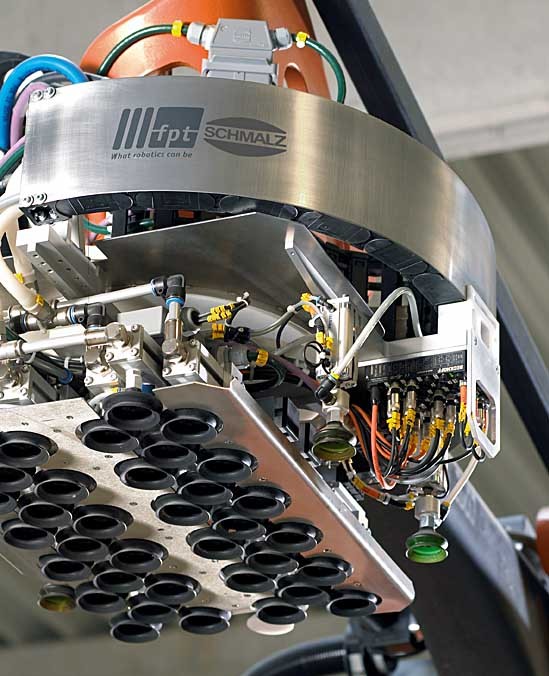 The solution:

The concept developed by Schmalz in cooperation with technology partners was a central palletising system which, thanks to modern robot kinematics, was very compact and space-saving.
The multifunctional griping system mounted on the articulated-arm palletising robot uses intelligent vacuum technology:
It is extremely flexible and grips boxes of various sizes, bundled goods and the intermediate layers of cardboard with one and the same gripper.
The goods to be packed and the intermediate layers are positioned quickly and precisely.
High performance thanks to the use of high-tech control and drive technology.


The gripper:
6 parallel aluminium beams (length 600 mm, cross-section 40x40 mm)
Each beam is equipped with six suction pads of the type FSGA 63 NBR with flow resistors (to maintain the vacuum even when some pads are not in contact with the workpiece)
A total of 36 suction pads on six beams
Plates mounted above the beams stabilise the workpieces to prevent them from swinging during high acceleration
Vacuum generation and control
o The gripper has three separate vacuum circuits.
o Each of these circuits is provided with vacuum by a multi-stage ejector of the type SEM 100 and has its own compressed-air control valve.
o The vacuum is regulated to suit the differing workpieces.
Vacuum and system monitoring
o Each vacuum circuit has its own digital vacuum switch (VS-V-W-D) in order to detect when its suction pads are in contact with a workpiece (part-present monitoring on the gripper).
o If the pads of a circuit are not in contact with the workpiece, the circuit is deactivated.
o This Intelligent control system reduces the consumption of compressed air and thus reduces the
operating costs!
Customer benefits:
High productivity thanks to short packing cycles
Short gripping times and, at the same time, safe and reliable gripping
No need to convert the system when orders are changed, since the extremely flexible gripper adapts itself to the differing workpieces
Extremely careful handling of the goods thanks to vacuum technology
99% availability of the system
Amortisation in three-shift operation within 1½ - 2 years
Schmalz is the leading supplier of Vacuum Automation Components as well as Robotic and Gantry style Vacuum Gripping Systems. Schmalz supplies modularly constructed area and layer vacuum grippers for flexible handling of varying material properties, configurations and shapes - such as non-rigid cardboard boxes, plastic film and porous materials. Schmalz grippers can handle varying dimensions and undefined positions. The product range of Vacuum Components includes suction cups in (11) standard materials and cup lines for special industry needs, e.g. Automotive cups or cups for the Packaging industry. The product range also includes vacuum generators, mounting elements and system monitoring devices. Schmalz, founded in 1910 in Germany, is family owned and operated in third generation. Schmalz is one of the few positive-energy companies worldwide and has been rewarded for its sustainability several times. Schmalz is DIN ISO 9001 and DIN ISO 14001 certified for more than 10 years.

Schmalz Inc., founded in 1999, is the US-subsidiary of Schmalz. Located in Raleigh, NC, Schmalz Inc. has its own outside sales force and Authorized Schmalz Distributors in all states. Schmalz Inc. is committed to provide an outstanding and timely service nationwide.
Three-shift operation of the system (24 hours per day)