Magnetic Adapters Accelerate Safe Connection of Test Leads
Use

d where clamping is not possible, magnetic adapters safely attach test leads onto screw heads. Adapter tip consists of bar magnet between 2 steel poles for optimal adhesion, and slightly concave shape of magnetic tip ensures optimal contact. Two versions are available, with 7 or 11 mm dia magnets, and both have rigid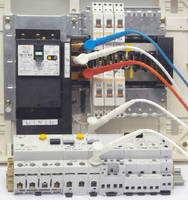 insulated socket for push fitting onto standard 4 mm dia spring-loaded plug with rigid insulating sleeve. Respectively, they are rated 1,000 V CATIII and CATIV.

A range of magnetic adapters for the fast, safe attachment of test leads onto screw heads has been introduced by Multi-Contact. Designed for applications where clamping is not possible, the adapter tip consists of a powerful bar magnet sandwiched between two steel poles to provide strong adhesion.

The slightly concave shape of the magnetic tip ensures good contact, even on dome screw heads.

Two versions are available, in a range of colours, with 7 or 11 mm diameter magnets. Both have a rigid insulated socket for push fitting onto a standard 4mm diameter spring-loaded plug with rigid insulating sleeve. They are rated at 1000V CATIII and 1000V CATIV respectively.

These adapters are particularly suitable for attachment to busbar fixings and relay terminals when testing small electrical distribution systems.

Milton Keynes based Multi-Contact (UK) Ltd is a wholly owned subsidiary of Multi-Contact AG Basel, the leading Swiss manufacturer of precision electrical and electronic connectors owned by Staubli AG.

Multi-Contact develops and manufactures state of the art connector technologies ranging from miniature electronic PCB connectors through to large electrical power connectors, including standard and custom designed solutions.

Applications include power generation and distribution, signal and data processing, and pneumatic and fluid distribution for a wide range of automation, process control, traction and computing requirements.

Multi-Contact connectors are used in medical and health monitoring instruments, test and measurement instruments, telecommunication installations, supercomputers, robotic docking systems, high speed trains, photovoltaic systems and many other products.