Low Cost Bearings for High-Speed Scanning
Imaging Business Machines LLC (IBML) uses iglide polymer plain bearings in its line of intelligent document-scanning platforms. The low-cost, self-lubricating bushings withstand the paper dust created by the scanners and the six-day, 24-hour operation schedules frequently demanded of them.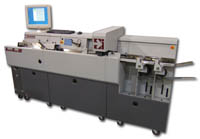 IBML's main goal is to ensure organizations—such as financial institutions, health insurers, federal agencies and state governments—benefit from intelligent, high-speed scanning and imaging technology. The Alabama-based company uses igus' iglide J and iglide G300 plastic sleeve bearings to rotate the conveyor belt inside its ImageTrac scanners. The bearings do not require lubrication and so do not cause problems or machine failure from dust and grease build-up.
Benjamin Bush, project engineer at IBML, confirms, "One of the reasons we use iglide bearings is because of their ability to deliver a clean performance. Another reason is that iglide gets the job done at a fraction of the cost."
iglide J bearings operate at speeds up to 1,968 feet per minute (fpm) in linear motion and 197 fpm in rotary motion. They incur little to no wear on a range of shaft materials as they have an extremely low coefficient of friction.
iglide G300 is an economical, highly wear resistant bearing suited to both oscillating and rotational movements in many different applications.
All iglide bearings are maintenance and corrosion free, dry running, dirt, dust and chemical resistant, and are available from stock.
For more information or a quote, call igus direct at 1-888-803-1895.