Laser Hybrid Welding with Gantry Robot
POSTED 02/09/2015
 | By: Güdel US, Ann Arbor, MI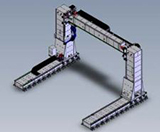 Precision hybrid laser welding is a demanding application with strict requirements for precision and vibration free motion. Laser welding over large work surfaces is even more difficult – but not for Yaskawa Motoman and Güdel.

Yaskawa Motoman recently delivered a unique system to Trumpf's Pasching, Austria facility for production of large machine frames. The system includes a large Güdel gantry robot (7 meter x 10 meter x 5.6 meter) used to position a Yaskawa Motoman robot over a large work envelope.

High precision Güdel planetary gearboxes and mechanical structures specifically designed to dampen vibration allow high speed, high acceleration and precise placement of the laser head over the large frame.