Laser and Saw Cutting for Roof Rails
REQUIREMENTS
Our customer required a work cell capable of producing aluminum roof rails for an OEM program.
There were two (2) different part variants: LH and RH. The workcell would be manually tended (loaded/unloaded) by operators and the total cycle time required was 25 seconds, regardless of part variant. Operation would involve laser cutting (hexagonal holes), saw cutting, drilling, and deburring. Automatic changeover between part variants was required.
SOLUTION
BOS designed a system featuring two (2) FANUC M-710iC/70 material handling robots, an operator load station, two (2) saw/drill stations, a BOS L-R laser cell, a deburr station, and an unload conveyor. The L-R cell was powered by a FANUC M-20iB robot equipped with a Laser Mechanisms FiberCut laser cutting head and an IPG YLR 2kW rackmount laser to perform the required laser cutting work: to cut four (4) small hexagon shaped holes into the extruded aluminum tubes.
The dual cold saw/drill stations were utilized to create the left- and right-hand parts without changeover and to optimize the system throughput by cutting both ends of the extrusion simultaneously. The first material handling robot with a dual gripper was strategically placed to move parts between the operator load, the BOS L-R cell and the saw/drill stations. Two (2) drill spindles mounted beside the saws were programmed to be automatically activated after the saw cutting process to drill two (2) stanchion mounting holes on each end of the rails. The second material handling robot utilized a universal gripper to pick parts from either saw/drill station and place them in the deburr station.
The electric deburr station utilized a spindle with carbide filled polymer wheel to smooth the rough edges of the aluminum rails. BOS programmed the robot to compensate for the deburr tool wear over time, optimizing the equipment life without adding the cost and complexity of any passive or active compliance device.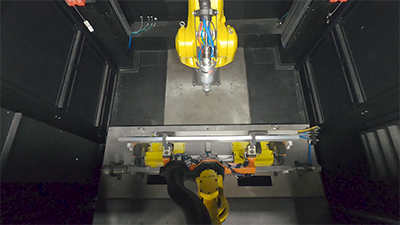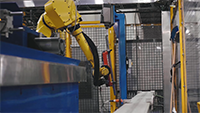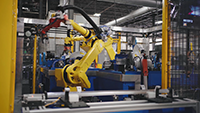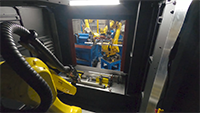 RESULTS
The solution of integrating the BOS L-R into a turnkey workcell with saw/drill and deburr stations was successful due to the fact that this laser cell requires minimal engineering time for our team to deploy into an automated system. Additionally, by having integrated several laser cells on past projects, BOS has streamlined the integration costs of these systems and was able to pass these savings on to the end customer.
The dual saw/drill stations reduced the overall footprint of the system and improved part cut quality and dimensions, due to the removal of part handling operations between the saws.
The electric motor-based solution for deburring was a innovative solution compared to a pneumatic motor-based alternative because of its lower cost of operation and maintenance while significantly improving the consumable lifetime of the deburr tooling.
BOS successfully met the customer requirements regarding cycle time (25 seconds per part) and automatic changeover at the push of a button.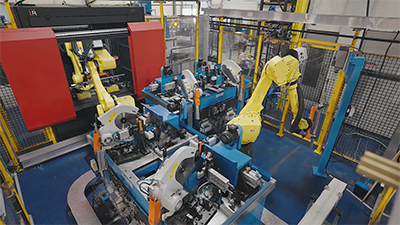 Watch the full video for this innovative solution on our website: Laser and Saw Cutting (L-R) Video