KP Foods Palletizing
POSTED 05/22/2012
 | By: Staff, Gudel Customer Care
TASK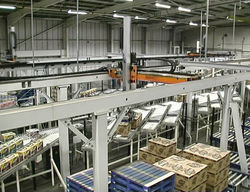 KP Foods Plant at Stockton-on-Tees is a manufacturer of Potato Crisp snack foods. The end of line process involved a manual palletizing process of the boxes of Crisps. This needed a high number of personnel over three shifts operating 24/7.
KP wanted to significantly reduce the labor content and re-deploy labor on to higher value added processes, reduce the floor space needed to perform the palletizing process and improve reliability of throughput. The output of the system needed to be one box every four seconds.
SOLUTION
KP Foods considered a typical 4-axis robot pelletizing solution with up to eight robots. Since this layout required too much floor space an overhead gantry system made more sense. A three-axis portal gantry system fitted with a fully programmable 'C' axis at the base of the gantry vertical axis provided the best answer.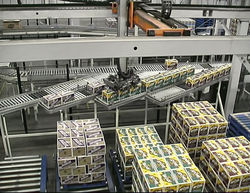 SCOPE OF SUPPLY
Güdel provided two FP-5 standard three-axis portal gantry systems with a dual purpose gripper system to handle a range of 16 different boxes, and to load new empty pallets into the system. Each gantry was fitted with two independently operating bridges – each bridge servicing eight box in-feed lines and eight palletizing stations. Each vertical axis was fitted with a 'C' axis for the many different layer patterns.
RESULT
The whole installation handles boxes from 32 box in-feed lines with a huge reduction of personnel per shift. This achieves the throughput target and saves floor space compared to the manual process and the proposed robot.