Katayama American Company Automates In-Line Measurement
POSTED 01/20/2010
 | By: Dan Hasley, Comany Automates In-Line Measurement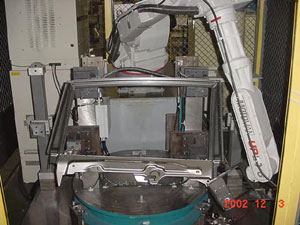 Problem:
Katayama American Company, Inc. (KACI) came to Dynalog with the following challenge: Integrate a robot from Motoman and 3D sensor from LMI to perform 100% in-line inspection of up to 12 features on each of the 4 doors of an upcoming new program for a very important Automotive OEM customer. Traditional measurement systems were not flexible or fast enough to handle the part volume and cycle time required by the new program. In addition to performing 100% in-line inspection, KACI demanded that the system duplicate the results of critical hard fixture measurements. The end product would be capable of producing the same measurements for any given door whether measured by the FMS or the hard fixture. KACI also demanded that Dynalog deliver excellent system accuracy and repeatability. Since the KACI plant experiences daily and seasonal ambient temperature changes, Dynalog knew that these temperature fluctuations would cause the robot's repeatability to fluctuate significantly over time.
Solution:
Dynalog specializes in Precision Robotic Applications such as Robotic FMS. Patented Dynalog calibration technology enables standard components such as an "off the shelf" robot from any manufacturer to be used for the high precision job of metrology. Dynalog configured two individual measurement cells with one Motoman UP20-6 robot and one LMI SRS-100 3D sensor in each cell. Dynalog calibration, metrology interface, and LMI vision software was installed on the PC of each system. Dynalog programmed the system to measure the inspection features of each part while performing automatic calibration in-between cycles. Calibration is achieved by measuring reference points placed inside the FMS cell. Dynalog's calibration software uses this data to establish initial "Absolute Accuracy", and then repeat the process to maintain this accuracy over time. Any change in the robot, sensor location, or in the fixture (i.e. Alignment) is automatically monitored and corrected by the Dynalog system.
Justification:
In the short term, the Dynalog FMS provides significant value as a cost-effective, flexible in-line measurement solution that is competitively priced with respect to other measurement technologies, and correlates well to hard fixtures. In the long term, the flexibility of the system allows the customer to simply re-program the system for new products, or for changes to existing products at very little cost. With the integrated, automatic calibration technology provided by Dynalog, the system is constantly monitoring its accuracy and adjusting for any changes (due to temperature, or even a crash of the system). Corrections to these changes occur automatically in the background. Furthermore, as a supplier to several Automotive OEM customers, KACI must achieve a high level of flexibility. Fixed measurement systems are expensive and are only useful for a single product. Robotic FMS provides KACI with a measurement solution that can be re-programmed as measurement requirements change.
Justification Drivers:
Labor Savings
Quality
Manufacturing Tolerances
Safety Considerations: ANSI/RIA R15.06-1992
Key Peripherals Intstalled: (2) 3D Vision Sensors, LMI Model SRS-100
Date Installed: 2002
Shifts Per Day: 1