Increasing Flexibility & Reducing Costs with Dispensing Robots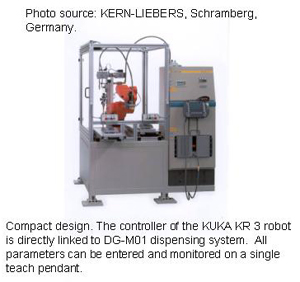 The trend in manufacturing is clearly changing due to the fluctuations in the economy and uncertainty in many markets. As recently reported in the Wall Street Journal, factories are using smaller, less expensive machines. Companies are learning to get more output from their capital investment, minimize inventories and run lean. This trend changes many capital projects from mega-sized monsters of large high-volume machines with dedicated tooling to small, efficient machines that can be quickly reprogrammed when models change midstream. Higher volumes can be established with banks of small machines. Design changes and new products can be made by converting one or more machines to the new design. Prototyping can be accomplished quickly without disruption current production and change can then be made as needed.
An example of this trend occurred recently with a large Tier I electronics supplier used to spending millions on projects. The connectors in the electronic control module are sealed with three gaskets to protect against dust and moisture. The gaskets, three millimeters wide and two millimeters thick, are made of single-component silicone and are dispensed in just ten seconds. The small KUKA KR 3 robot, chosen for this highly compact system due to its small dimensions, was teamed with a modular dispensing system, a Kern-Liebers DG-M01. The KUKA controller is linked directly to the Kern-Liebers DG-M01 PLC system. All dispensing and robotic parameters are entered directly and monitored continuously using a single teach pendant. A ceramic sealing nozzle makes the system practically wear-free and eliminates the need for cleaning shots during operation.
The double-sliding shuttle table is loaded and unloaded manually. The UV curing oven is just one meter long and cures the gaskets in only two minutes. The system was designed by Kern-Liebers USA Dispensing Technology, built in Schramberg, Germany, and commissioned in just one day at the customer's plant in Mexico. The DG-M01, because of its modular design and control integration capability, simplified the system design process. Programming the KR 3 robot to act as the dispensing arm of the DG-M01 was accomplished quickly and accurately. Streamlining these design considerations reduces the payback time of the system and builds in flexibility to ease any future changes in part design or sealing material. Inquiries about this system can be answered by Kern-Liebers USA, 1510 Albon Road, Holland, OH 43528, 419-865-2437, merby@kl-usa.com and visit www.kern-liebers.com.