Increase Production with Machine Tending Cell
POSTED 01/01/1900
 | By: John Clark
Increase Production with Machine Tending Cell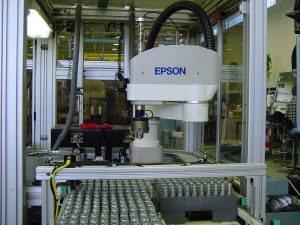 Company: EPSON Factory Automation Robotics
Submitted by: John Clark
Contact: info@robots.epson.com
Industry: Metal cutting
Application: Machine tending cell
Integrator: None
Problem:
Customer needed to increase production from 2 to 6 pieces per minute. Secondary objectives were to reduce changeover times and to have the ability to handle a growing product mix. In addition there was a desire for a single, programmable human-machine interface (HMI) capable of being used on all the equipment.
Solution:
Two EPSON TT8550 robots were selected for the complex motion tasks such as palletizing, screw driving and precision assembly; pneumatic devices were used for simple pick and place operations. Prior experience with robots had proven their reliability and robustness.
The EPSON controllers were used to control all the components on the line including the robots, conveyors, lift and locate stations, feeder bowls, escapements and the pneumatic pick and place stations. Utilizing the robot controller allowed the developers to utilize a single common architecture for all motion, I/O, multitasking and safety circuitry for the entire line.
The EPSON controller allowed the customer to program all cell controls from a single environment, SPEL for Windows, greatly reducing the complexity and implementation time for the line. SPEL for Windows's graphical user interface and project management philosophy aided development by concurrently producing documentation as programs were developed. Using the VB Guide option and Active X Controls, the user created a GUI using Visual Basic. The Active X Controls allowed the user to integrate SPEL programming and maintenance screens as well as discrete commands directly into the Visual Basic HMI.
Benefits:
Production rates soared nearly 300%.
Using robots for complex tasks and the standard robot controllers to control the peripheral equipment minimized line cost.
Using industry standard software greatly reduced programming times and related costs.