Handling Hot Work Pieces with Vacuum Suction Cups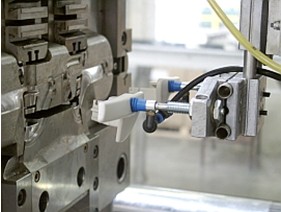 The Challenge
A leading specialist for injection molding and assembly technology for vehicle interiors has to take out hot work pieces from the injection-moulding machine and place them on a conveyor.

Specifically: internal door handles for automobiles. The parts have a temperature of 176 to 266°F at
the time of removal. The conveyor has an integrated blower which cools the parts.

The suction cups should leave no mark on the work pieces
The Solution: Non-Marking Cups for Handling Hot Work Pieces

By the usage of Schmalz suction cups type FSG 12 with 2.5 bellows and made of special heat-resistant material, all requirements are fulfilled:
Schmalz suction cups, made of HT1, leave no marks which means that the work piece surface can be painted or chrome-plated easily.
Temperature resistance up to 266°F ensures a long cup life-time
The form of the bellow cup FSG 12 shows a soft sealing lip for an excellent adaptation to the curved surface. Furthermore, is has a high stroke to facilitate the removal of the workpiece from the mould.
For the vacuum generation compact ejectors SCPM 10 are installed: Due to their minimized size and their light weight they can be placed very near to the suction pads for highly dynamic processes and short cycle times.
Further Information
Schmalz also offers HT2 cups with a heat resistance of up to 480°F. With these cups, Schmalz is the only company to solve handling tasks in the area of hot-forming of sheet metal parts in press lines with suction cups instead of mechanical grippers.
For use in the manufacture of float glass or in tempering processes in the glass industry, Schmalz also offers SPL-HT suction plates, withstanding temperatures up to 1112°F.
Schmalz is the leading supplier of Vacuum Automation Components as well as Robotic and Gantry style Vacuum Gripping Systems. Schmalz supplies modularly constructed area and layer vacuum grippers for flexible handling of varying material properties, configurations and shapes - such as non-rigid cardboard boxes, plastic film and porous materials. Schmalz grippers can handle varying dimensions and undefined positions. The product range of Vacuum Components includes suction cups in (11) standard materials and cup lines for special industry needs, e.g. Automotive cups or cups for the Packaging industry. The product range also includes vacuum generators, mounting elements and system monitoring devices. Schmalz, founded in 1910 in Germany, is family owned and operated in third generation. Schmalz is one of the few positive-energy companies worldwide and has been rewarded for its sustainability several times. Schmalz is ISO 9001 and ISO 14001 certified for more than 10 years.
Schmalz Inc., founded in 1999, is the US-subsidiary of Schmalz. Located in Raleigh, NC, Schmalz Inc. has its own outside sales force and Authorized Schmalz Distributors in all states. Schmalz Inc. is committed to provide an outstanding and timely service nationwide.
Schmalz Inc.
5200 Atlantic Avenue
Raleigh, NC 27616
(919) 713-0880
www.schmalz.com