Grippers that Hold Up in Extremely Tough Environments
POSTED 05/10/2013
 | By: Roberta Zald & Mary Sweeny, Marketing Communications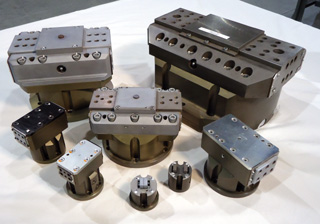 Bremen Castings
, a precision CNC machine shop and foundry located in Bremen, Indiana, has a
tough job to do. Producing gray iron castings from recycled material is a job that Bremen has been doing effectively since 1939. In 1996, ductile iron was added to their operation.
Bremen uses robots to grind the gray iron and ductile iron castings that their customers require. The company uses robots in their grinding room to protect their people from this demanding and dirty job. Their goal is to grind 99 percent of the features with a robot and then have their people do the last bit, as necessary.
Bremen's robotic grinding cells handle parts that weigh as little as 1 lb. and as much as 103 lbs. with the same gripper and 165kg payload robot. Some parts are gripped on the OD, others on the ID. so the stroke and payload of the gripper were critical factors in making an appropriate selection for this application.
With over thirteen hundred active patterns (part numbers) to accommodate, James Besser, Automation Engineer, selected the IRP-21/37 2-Jaw Parallel Grippersafter considering the wide range of products that would need to go through the grinding room.
Bremen
purchased the first of seven IRP-21/37 2-Jaw Parallel Grippers in 2011. "This is an extremely
tough environment," Besser explains. "Finding a reliable gripper that holds up is a challenge. The IPR grippers are very reliable. We have had no problems with them." Besser adds, "We have well over the rated one Million cycles so far!"
Bremen purchased two IPR Robotics IRP gripper units the first year and has since added five more. "With seven IRP grippers in operation, we couldn't be happier with the performance", Besser asserts.
In mid-March of this year, this
Bremen Castings
facility achieved over 1 Million hours worked without a lost time accident. This is an outstanding achievement for a Foundry operation. Besser states, "The robots in our grinding room have contributed to that goal significantly."
Besser says he is planning to rebuild the gripper units with new seals in the summer of 2013 as a preventative maintenance measure. "The units will have been in operation for two years, and I want to take this precaution."
Bremen
is making plans to add two more robots soon, and the plan is to put IPR Robotics IRP-21 grippers on them, as well.
Bremen is a non-union & ISO 9001:2008 registered machine shop and foundry. BCI has been recycling for over 70 years and is proud to be a family owned business in its fourth generation of leadership.
IPR Robotics, LLC is affiliated with IPR – Intelligente Peripherien fuer Roboter GmbH, located in Schwaigern, Germany, which has been in business since 1989. IPR's global product offering includes a broad range of standard end-of-arm components including grippers, compliance wrists, alignment devices, tool changers, load limiters and force/torque sensors, along with 7th axis robot rails. IPR Robotics, LLC has been in the US since 2003 and excels at combining these components into complete EOAT solutions to meet the needs of each application.