Fused 1000 V Test Leads from Multi-Contact Assist Operator Safety
UL

approved test leads are terminated with 4 mm diameter plugs for connecting standard safety test clips and probes to enable safe, fuse-protected measurements. They accept 6.3 x 32 mm UK style fuses, which can be fitted by unscrewing 2 part connector. Available with PVC/silicone insulation, leads are fitted with Multilam®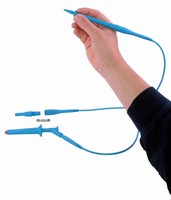 plugs with rigid insulating sleeves. Two HRC type fuses can be supplied, rated at 0.5 or 1.6 A, both with breaking capacity of 50 kA.

Testing high power distribution systems and panels can be safely carried out with the help of the latest test leads from Multi-Contact. The new leads are rated for use at voltages up to 1000 V CATIV.

Incorporating an integrated high capacity fuse holder, these high flexibility leads accept 6.3 x 32 mm UK style fuses, which can be easily fitted by unscrewing the two part connector.

The UL approved leads are terminated with 4 mm diameter plugs, for connecting standard safety test clips and probes to enable safe, fuse protected measurements.

Available with PVC or silicone insulation, the leads are fitted with Multi-Contact Multilam® plugs with rigid insulating sleeves.

Two HRC type fuses can be supplied, rated at 0.5 A or 1.6 A, both with a breaking capacity of 50 kA.

The leads are designed for 1000 V CATIV operation in accordance with IEC / EN 61010-031, which allows safe use in appropriate environments provided suitable high capacity fuses, probes / clips and test instruments are used.

Milton Keynes based Multi-Contact (UK) Ltd is a wholly owned subsidiary of Multi-Contact AG Basel, the leading Swiss manufacturer of precision electrical and electronic connectors owned by Staubli AG.

Multi-Contact develops and manufactures state of the art connector technologies ranging from miniature electronic PCB connectors through to large electrical power connectors, including standard and custom designed solutions.

Applications include power generation and distribution, signal and data processing, and pneumatic and fluid distribution for a wide range of automation, process control, traction and computing requirements.

Multi-Contact connectors are used in medical and health monitoring instruments, test and measurement instruments, telecommunication installations, supercomputers, robotic docking systems, high speed trains, photovoltaic systems and many other products.