Furniture maker IKEA boosts production capacity with industrial robots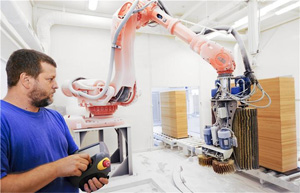 Office and kitchen furniture manufacturer Spartan, a branch of Swedwood (part of the IKEA Industry Group) in Slovakia, have installed two robotized paint lines to help achieve their goals of increased quality requirements of its customer, becoming more environmentally friendly, and boosting production capacity.

Spartan is one of almost 40 furniture factories Swedwood International. It cooperated with other companies to develop the new lines, which stain and paint the edges of pieces used in fitted kitchens. The new paint lines replaced old manual ones. Anton Dvorák, Spartan's Investment Director, explains, "Our company switched from using nitrocellulose lacquer to water-based lacquers after IKEA began requiring them for a higher quality surface."
Another reason IKEA pushed Spartan to switch to water-based lacquers was because nitrocellulose lacquer is based on organic solvents which are harmful to the environment. IKEA's policy is that its products must be manufactured in a responsible manner. Spartan also wanted to improve the quality of work for its employees. It opted for fully robotic production lines, thereby removing humans from an unsuitable environment. The fourth reason for the change was to increase capacity. "In 2006 we invested over half a billion Slovakian krona to extend our factory's production capacity," says Dvorák. "After this, the capacity of the original paint lines was shown to be too low."
Tailor made solution
The project required construction of a new production hall of approximately 5,000 square meters and development and production of two edge-paint lines."Total investment in this project exceeded 100 million Slovakian krona [approximately 3 million euro]," Dvorak said. Spartan was unable to find a complex, ready-to-use edge-paint line fitting all its requirements on the market. They had to find solutions for a transport system, drying tunnels, devices for high-pressure painting, software and the robots themselves.

It was also necessary to build cells and filters as well as to find a lacquer supplier. So, Slovak teamed up with other companies, including ABB Robotics for robots, Esab for software, as well as Energo Robotics Liptovsky Mikulaš, Nestro, Alk, ITV, Hese, and others, to design and build two sister lines.
"We picked ABB as the robot supplier because of a general framework agreement on cooperation between Swedwood and the ABB group," says Dvorak. Another reason was that ABB Robotics has a unit in Trnava. "This meant that we could expect better client support, maintenance and other services." ABB Robotics supplied seven robots in total: five IRB 5400 robots for staining and painting with high-pressure guns and two IRB 6650 robots for sanding.
Flexible and productive
The lines are U-shaped, with the longer one running around the outside of the other. The wood pieces range in size from table tops (2.3 m x 1.3 m) to drawer fronts (56 mm x 386 mm) and enter the lines in stacks 1.3 meters high on stop-and-go conveyor tracks. On the longer line the edges are first stained, then continue to the painting cell where they are painted with a base coat. After being hot-air dried in a tunnel, they are sanded and finally receive a top coat. On the shorter line the wood pieces just receive base and top coats.
"The capacity of the two lines is approximately 280,000 pallets per year," Dvorák says. Four people now work on the robot lines in one shift, while the old manual paint lines required a staff of eight – a reduction of 12 people, since work is divided into three shifts. ABB Robotics has calculated the ROI at 2.4 years. Among the advantages that robots have brought Spartan, Dvorák noted that they allow regulation of the amount of spray used, and reduce over-spray by 15 percent. He also said that using robots results in much more even application of spray compared to hand spraying.