Five Robots Travel Around the World – Centralized unitizing robots prove reliable and flexible
Motion Controls Robotics, Inc (MCRI) helps a large pulp and paper company relocate and expand their current robotic unitizing system.

FREMONT, OH – Seven years ago MCRI designed and integrated a robotic unitizer using five, FANUC M410 robots for centralized unitizing of caseloads from production at a large North American paperboard converting plant. Robotic unitizing systems scan, organize, separate, and classify products into a unit load. MCRI designed and integrated the original five aisle, centralized robotic unitizing into a tight footprint area for an operation that was growing quickly. Within about seven years of completion, the converting company was in need of even more production capability and decided to relocate and expand the unitizing cell.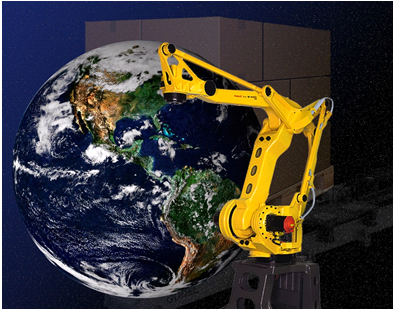 As the MCRI programmer powered down the robotic unitizer at the pulp and paper converter's original location, he saw the final robot statistics for the original system on the HMI. Over the years these robots traveled up and down the rails covering about 121,000 miles. This basically means that each of these robots traveled the equivalent distance of a trip around the world in their seven years in service - averaging about 10 miles a day. FANUC is known for providing world class robots for reliability and innovative capabilities.

The assistant plant manager commented, "Overall, the biggest benefit from this system is reliability, which was our primary consideration when we were looking for a system. We are also excited to be using new technologies that have exceeded our original expectations in every respect."

Consumer trends are leaning toward more diversification in product needs meaning manufacturers like this one are seeing a steady increase in SKUs, along with the need to stay competitive through the capability of producing mixed loads to send directly to retail locations.

Unlike other forms of automation, robots are very portable. So after seven years, MCRI was able to completely relocate this robot cell into a new facility allowing the paper and pulp company a larger footprint to expand the system and even leave room for further expansion.

This relocation and expansion included:
Five FANUC M410 unitizing robots with Gudel rails - relocated, while adding two new robots and rails to expand the system
New SKU positions – added along the rails to further increase customer production flexibility and throughput capacity
Vacuum cups and other wear items on each existing robot's end of arm tool - refurbished
Existing conveyor – expanded and relocated
Existing tape inspection stations – relocated and fitted with new technology, and four new random case tapers added, ensuring tape is properly applied to the top and bottom of each case.
Bar code scanners – updated with latest bar code scanner technology to improve reliability and reduce cost to route cases from production to 100+ SKU locations along the robotic unitizing lines
Read about the full robotic unitizing system by downloading the Robotic Unitizing Cell Case Study or find out more by reading the MCRI Tech Talk Article on the relocation project.


About Motion Controls Robotics
Founded in 1995 and celebrating over 20 years of continuous growth, Motion Controls Robotics is a leading provider of automation solutions to manufacturing industries. The company provides full service robotic solutions from concept to installation and service/support that keep manufacturers competitive. Motion Controls Robotics creates solutions for Fortune 500 and small to medium-sized companies in the food & beverage, plastics, building & construction materials, converting, manufacturing and board & sheet goods industries. They also automate small production shops and machine job shops. Motion Controls Robotics provides automation solutions to manufacturers for a variety of applications including material handling (case packing, palletizing and machine tending), and vision-guided systems. Motion Controls Robotics is an exclusive Level 4 Certified Servicing Integrator for FANUC Robotics, and a SmartCart Automatic Guided Cart Value Added Reseller (VAR) for Daifuku Webb.