Factory Five Racing and Robotic Production Technology Team Up to Improve Kit Trimming Quality and Cost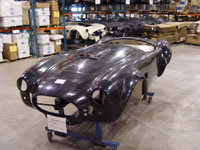 Challenge
Factory Five Racing, Inc. is a kit car company based in Wareham, Mass. that produces affordable Roadster replicas. For seven years the company hand trimmed the kit panels using router and trim fixtures. The trimming results varied depending on the person who did the trimming process and any movement in the fixture while trimming. The process to trim four sets of panels – eight doors, four hoods and four trunks – took 7.5 hours. This process left Factory Five with little control and a constant source of problems with trimming accuracy.
Factory Five Racing competes in the hot rod/component car automotive niche and has been an industry leader in introducing new, leading edge technology to its manufacturing operations since its inception in 1995.
Solution
In 2003, Factory Five Racing met with Robotic Production Technology, Inc. to learn more about the robotic trimming process. Factory Five wanted to develop a system that would have higher quality, reduced production time and the flexibility to trim a variety of parts.
After reviewing Factory Five Racing's objectives, Robotic Production Technology developed an overhead mounted robotic router trimming system with an M-710iT FANUC robot mounted on an 18-foot overhead rail. The robot has an 8 hp Columbo spindle that utilizes different size router bits depending on the part being trimmed.
The system includes a full enclosure and a manually actuated vertical door in the front of the cell for access by the operator. Parts are presented to the robot on interchangeable carts that hold the parts during trimming. Each fixture cart has a uniquely coded ID tag that can be read by the robot so the correct program can be selected for trimming. The system also includes a Cell-Finder module which is run after a different cart is positioned in the cell.
Factory Five Enjoys Process and Quality Improvements
The robotic router trimming system provided by Robotic Production Technology gives Factory Five the flexibility to trim a wide variety of parts with high accuracy and speed. It has also allowed the molding department to increase its efficiency and production with fewer employees. With normal employee attrition, Factory Five has not hired replacements. Currently Factor Five trims seven different parts on the robot.
Factory Five has used the robotic trimming system for one year. Trim time for four sets of panels is now 24 minutes versus 7.5 hours, a 95 percent decrease.
Process Improvements
''This robotic trimming system is an extension of the trend we began when we started Factory Five Racing, Inc.,'' said Mark Smith, Owner, Factory Five Racing, Inc. ''We are on the leading edge of engineering and technology and will continue to make improvements which lead to higher quality, world class parts and innovative designs.''
The company chose to implement the robotic trimming system due to the increased accuracy and cost savings. The system has allowed one employee to do the job of two people because of the time savings.
Quality Improvements
The robotic trimming system has reduced the reject rate by more than 200 percent. Factory Five measured quality by how accurate the panel is trimmed and the reject rate due to bad trimming.
Due to the success of the robotic trimming system, Factory Five is purchasing a welding robot which will be delivered in November to help in the welding department.
Factory Five Racing provides component kits that deliver real value and performance. The company uses first rate technology to deliver world class parts at a price that ordinary people can afford.
Robotic Production Technology is a turnkey robotic systems solutions provider. Industries served include aerospace, appliance, automotive, composites, construction, consumer goods, marine and plastics industries. The company specializes in high path accurate trimming applications such as deflashing, laser cutting and scoring, router and water jet cutting. RPT also has process expertise in material dispensing, assembly, joining, material handling and welding. Capabilities include project management, engineering, simulation services, fabricating and machining, system integration and certification, software, training, service and support.
Since 1985, RPT has been a leading manufacturer of flexible manufacturing systems utilizing multi-axis robots, with an installed base of more than 2,000 robots. RPT's Auburn Hills headquarters is located at 1255 Harmon Road, Auburn Hills, Mich.