EyeVision inspection for a flawless label print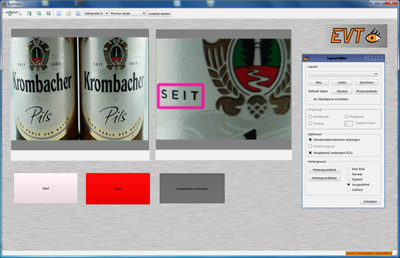 To check on the flawlessness of label prints and at the same time guarantee a high color accuracy, a maker of color controller and inspection systems has contacted EVT. With the EyeVision image processing software the user can create inspection programs to detect print and color defects with only a few mouse clicks. And that at a printing speed of 250mm/s and an inspection and reading speed of 35 labels per second.
The plant offers a continuous closed-loop-qualitycheck, so that the customer can increase their productivity. The customer in this case is printing labels for the beverage industry on several plants. And as it common knowledge that food and beverage sells better, when the label looks nice and is printed correctly, the demands on the printing quality are very high. To check on the accurate color and to detect defects, EyeVision detects, records and saves the errors. At full printing speed the system detects not only process-related defects such as e.g. stripes, hazes, color deviations or register defects. The system also recognizes accidental flaws such as e.g. stains, misprints, scraps or splatter.
A not insubstantial part is the inspection of color accuracy, which is also one of the core disciplines of the EyeVision software. With the color command set of the EyeVision software, color evaluations in the complete color space defined exactly. The applications are created according to the color evaluations of the software. Specific color areas can be extracted with a few commands. The user can therefore easily filter an image in light pink and straw yellow. And thereafter can continue with this extracted data for the application. This means the extracted color areas can be counted singularly or cumulatively, can be measured or the area can be defined.
Additionally the EyeVision 3.2 has a Process Mode, where the user can control only the relevant processes.