Dispensing DNA Genetic Material
POSTED 01/01/1900
 | By: John Clark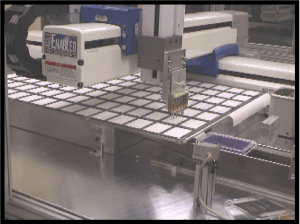 Contact: info@robots.epson.com
Industry: Biotechnology
Application: Dispensing DNA genetic material
Problem:
Research Genetics Inc. needed a fully automated system that would increase productivity, meet extremely tight repeatability specifications and achieve high dot placement density. In addition they required a system that could be programmed in C in order to maintain conformity with other applications in their facility.
Solution:
Research Genetics Inc. built a flexible, reliable workcell based on the Epson XM3000 Series Cartesian robot. The XM3106B10LN was chosen because of its 15 micron repeatability, zero settling time, large work envelope (1000mm x 600mm x 100mm) and VBGuide software option that allowed Research Genetics Inc. to program in C. Parts are fed into the robot work envelope on a custom feeder. Both the robot and the feeder are controlled by an on-board PC which also provided the human-machine interface.
Benefits:
'Cost-free expandability' - The extreme precise repeatability of the XM3000 allowed Research Genetics Inc. to increase product quality without having to invest in new equipment.
Reduced integration cost - Because of Epson's easy to use software, Research Genetics Inc. was able to design and build their own cell eliminating the need to use an outside integrator.
Flexibility - The ability to program the robots in C means that the system can be easily reconfigured to suit customer needs. Research Genetics Inc. is able to provide custom printing as a result.
Increased productivity - The success of the first cell provided the incentive for Research Genetics Inc. to invest in additional cells.