Discover the Case Study of the Collaborative Project Between APN Global and AV&R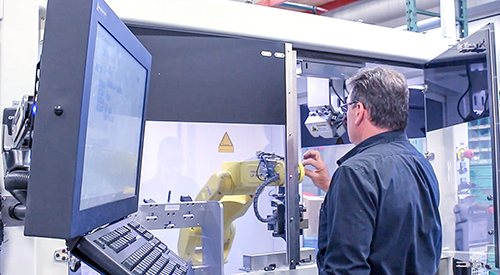 THE ISSUE
APN Global is a Québec-based growing company looking for solutions to increase its production capacity. As a pioneer in 4.0 concepts, the company looked to automation to improve its deburring capacity (removal of edges on metal parts). With the current situation of labor shortage, it is difficult for APN Global to hire manual operators to perform the deburring operation. Training of these operators is lengthy to ensure the quality and consistency their customers expect.
INITIAL SITUATION
Hundreds of parts to deburr each year
5 manual operators for deburring operations working in 2 shifts
Approximately 1,500 to 2,000 working hours per year per operator.
THE SOLUTION

Robotic system: BF-X 200-c DEBURRING

Robot ©Fanuc - LR Mate 200iD
Abrasive Brushes - Bristle Brush ©3M
Part flipper
Part loading drawer
Integration of tools used during manual process - Reamer and Flex Hone
Programming and operating software BrainWave
THE RESULTS
Within 3 weeks after the installation of the robotic system at APN Global, the company had programmed and approved the automated deburring of 6 different parts. This represents around 750 hours of fully automated deburring per year, which is the equivalent of an additional half-resource.

After a short, customised training on the BrainWave software, APN Global is now autonomous for the robotic programming adjustment of the other parts in its production. The next goal for APN Global is to increase the automated deburring hours per year, in addition to the work done by its manual operators.
ROBOTIC SYSTEM BENEFITS
Constant quality
Production capacity increase
Client's flexibility and autonomy to program automated deburring for new parts
LEARN MORE ABOUT APN GLOBAL and AV&R!