Custom Injection Molder Chooses Zero-Backlash Robots
When Triple S evaluated robots for future expansion of automated cells in their factories, they selected a robot as much for what it doesn't do as for what it does do. No backlash.
'If a robot over-accelerates between positions, when it stops it has to 'find itself' which causes it to twitch, just a little. A unique design called 'zero backlash gearing' prevents that half second twitch,' explained Alan Krawitz , Triple S Automation Manufacturing Engineer. 'This feature was a major factor in which robot we chose because it increases the robot's repeatability, while decreasing the cycle time.
'Triple S is a custom injection molder with four plants in Texas and Michigan. The company serves many diverse industries; however, 60 percent of its business comes from manufacturing windows, covers and other components for the wireless telecommunications industry.
Early this year, Triple S installed a new robot in an automated cell in their Georgetown, Texas, plant to de-mold, trim the gate and package windows for cellular phones. Since then, the company has ordered more than 10 additional robots like it.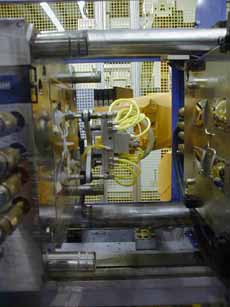 Custom injection molder Triple S recently installed
a robot in a work cell to produce cellular phone
windows. The company reports that they have
great flexibility with the six-axis robot.
Here the robot removes parts from the four-cavity mold.
'The performance of the 'zero backlash' robot in comparison to another robot operating in a similar cell in our Forth Worth factory reassured me - and others in the company - that we made the right choice as we move towards more automation,' Krawitz said.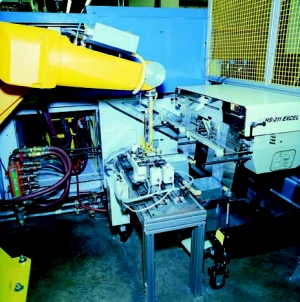 Zero backlash gearing increases the robot's repeatability
and decreases cycle time as it moves between positions.
In the second position, the cutting machine, designed
and built specifically for this application by Triple S,
trims the gate and separates the runner from the parts.
Search for Flexible Solution
Krawitz, who has worked with robots for the past eight years at several of the world's biggest telecommunications manufacturers, was hired by Triple S two years ago to research and implement process improvements. 'When I was hired, automation was relatively new for Triple S,' Krawitz said. 'Now it is growing very fast.'
When he joined Triple S, the company already had two six-axis robots in automated cells producing cellular phone windows. Krawitz was not completely satisfied with the performance and technical support provided by the robot manufacturer and launched a review to find a robot that would better meet the company's growing need for flexible automation.
'The two robots we had in-house were not very cost effective, and I was not pleased with the customer support. We weren't completely dissatisfied, but we wanted to find something better,' Krawitz explained.
From experience, Krawitz knew flexible automation would continue to be the most cost-effective solution for many customer applications. Therefore, he was not looking for a robot simply to fill a specific need at the time, as much as he wanted to find a robot that had the flexibility to meet the undefined automation requirements of future jobs.
Krawitz, and other key Triple S personnel, looked at all the major players. 'We all had our concerns and preferences. There were those who knew what other companies used and wanted to use the same equipment,' Krawitz said. 'My biggest concerns were accuracy of the robot and customer support. If the sales people could not tell me the robot's top speed, accuracy, repeatability, down time ratios, and other key factors, that was an indication to me that customer support would probably be poor.
'In the end, they selected a Stäubli RX130 six-axis robot. 'Besides zero backlash gearing, Stäubli had the fastest, most accurate robot on the market,' Krawitz explained. 'Other advantages were the integration capabilities, and it's fairly user-friendly and easy to network - factors that make implementing new work cells a lot easier.'
Krawitz needed to find an application for the RX130 so its performance could be compared to the two other six-axis robots already in operation. The plan was to make a long-term decision on a robot manufacturer. 'If the Stäubli performed well then we were going to choose that robot basically as the only robot we were going to use from now on,' Krawitz said. 'And that turned out to be the consensus.'
15% Higher Throughput
The RX130 robot was installed in the Georgetown factory in an automated cell that produces cellular phone windows. Four windows held together by a runner are molded simultaneously. The robot removes the windows from the mold, cuts off the gate, drops each window individually into a plastic bag and discards the runner. The operation incorporates all six axes. This process was measured against the automated cell in Fort Worth where windows with in-mold decorating were produced in a two-cavity mold.
'Despite the differences, we can compare the cells because they are very similar. The Stäubli cell is doing four windows per cycle, and in the cell with the other robot, we're doing two windows per cycle. Correcting for variables in the two cells, the throughput of the RX130 is conservatively 15 percent better in this application,' Krawitz reported.
Future Uses
The current application is not representative of what the robot could ultimately achieve. 'Your molding machine has a cycle and so does your robot. We don't normally compare robot cycle times in a molding cell, because as long as it meets our molding cycle time it's not an issue,' Krawitz explained.
Again, Triple S was planning ahead when they made this robot decision. 'In the future, these robots will be standing alone doing automation not dependent on the molding machine cycle time. We're going to have automated cells that are set up to do assembly after molding,' Krawitz said. 'If we can utilize a faster robot to run that cell faster, that's where we will be gaining.'
In planning for that eventuality, Krawitz wanted a robot that could maintain its speed even with several stops along the line. 'Let's say you're stopping the robot at three to four different positions, and it takes one-tenth of a second or even one-third of a second to recalculate itself,' Krawitz explained. 'By the time you stop at three or four different positions, your cycle time could deviate two to three seconds very easily. Zero backlash means you'll cut out those extra seconds.'
Tight Repeatability
Zero backlash is also a factor in the robot's excellent repeatability (±0.02mm).
Krawitz explained that as the wear on the gears and motor in most robots increases, repeatability decreases, and the robot's positions have to be re-set. 'With the Stäubli I haven't seen any issues of that nature. They have a patented, hardened steel, cam-style gear system that's more like a Swiss watch mechanism than a typical robotic drive. The entire joint is encapsulated in a sealed oil bath that's warranted for five years. This system of sealed and lubricated cams and bearings means we get consistently smooth operation with little wear and no backlash,' he said. 'With zero backlash gearing, you're not creating wear because of the jerk back. That's what creates the wear, when it goes in one direction and suddenly comes back in the opposite direction.'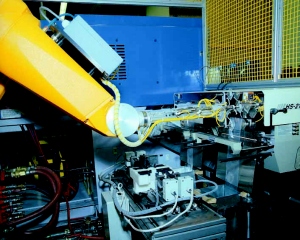 The robot's end of arm tooling has suction cups that hold
each individual window. The robot drops a window into a bag
and, while the machine seals the bag and indexes to the next one,
rolls to a parallel line of continuous bags to deposit the next part.
Krawitz reported that since they initially calibrated the RX130, they have not had to adjust the positions.
Same Cost for Six-Axis
Triple S also had three-axis robots when Krawitz came on board; however, more pick-and-place robots did not factor into his plans for the future Triple S factories.
'There are situations where a three-axis robot will be adequate, but again it comes down to cost. Today, we can purchase a six-axis robot for close to the same amount as a three-axis robot,' Krawitz explained. 'Why not go with the six-axis and then in the future, when projects change, you already have the built-in integration with the molding machine, and all you have to do is make your tooling changes. Having a six-axis robot makes it much easier to switch a machine or work cell over.'
In evaluating robots, Krawitz compared speed when more than one axis is in motion. 'You can find two robots by two different manufacturers that can travel at the same speed in the same path. The difference comes in when you move more than one axis at the same time. What I have seen with many robots is that they lose speed, whereas the Staubli maintains its speed,' he reported.
Better Jobs for Humans
According to Krawitz, the advantage of a robotic cell over human labor is its repeatability. 'The quality is more consistent - whether it's good quality or bad quality - the quality is always consistent. With the human factor you always have to wonder if the person is just scrapping parts because he's having a bad day,' Krawitz said.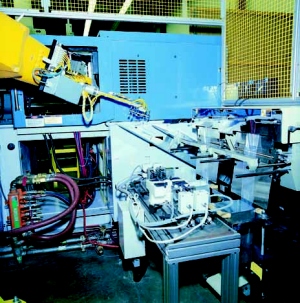 In the final step of the cycle, the robot drops the runner down
a chute to be collected for scrap. Krawitz said that photos
can't convey the robot's fluidity. 'It's almost like a work of art!'
As Triple S adds more flexible automation to their operation, Krawitz projects the company will maintain its labor force. The difference will be in the education and training of the employees overseeing the automated cells.
'The key for robotics is having educated people in place to support the equipment. We don't promote the downsizing of the company. We look at moving employees into other positions. Instead of having someone sit there 12 hours a day doing the simple labors that robotics or mechanics can - jobs that are very fatiguing and not very fulfilling - we'd rather employ educated or highly motivated people to oversee these cells.'
This philosophy of maximizing human resources, coupled with intelligent use of automation, is what makes Triple S an integral supplier to the cellular phone industry.
For additional information, please contact
Marketing Manager
Stäubli Corporation - Robotics Division
201 Parkway West
Duncan, SC 29334
USA
Tel. 864-433-1980
Fax. 864-486-5497
robot.usa@staubli.com