Compliance in Motion - an Automotive Parts Application
POSTED 10/04/2013
 | By: Roberta Zald & Mary Sweeny, IPR Robotics Marketing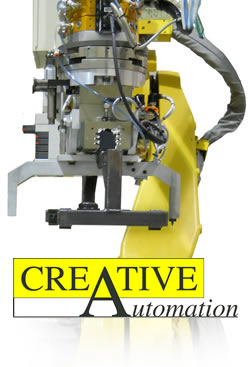 Creative Automation, Inc. headquartered in Whitmore Lake, Michigan, provides turnkey automation solutions for industry. The company is in the process of building and commissioning the materials handling systems for eight gear machining work cells for a major automotive parts manufacturer.

These systems deliver gears to broach machines for cutting and to washers for final cleaning. The ten gear sizes involved are handled using an electric gripper mounted to robots.

Robots are used to load and unload each broach's 9-position indexing rotary table. The parts must be handled carefully, in order to avoid damage to the part, and to the precision rotary table that feeds the broach. Even 1 mm of misalignment between the robot's end of arm tool and the position of the parts in the table could cause costly damage.

With the goal of processing 90 gears per hour with a 40-second cycle time per gear, speed is a necessary element. This requires an end of arm tool with compliance during part pick-up from the rotary table. In addition, the tool must be locked into a centered position for high speed movement of the robot with precise part delivery into the next operation.

This is why Creative Automation incorporated an IPR FM-160 Compliance Wrist on each gripping module. Meeting the required throughput means that two gripping modules are needed on the tool to handle two parts at a time. The module selected needed to be compact and reliable. IPR's FM series meets the need.

Bryan Paxton, Project Engineer, explains how the FM series contributes, "The robot can position its gripping module above the gears, release the FM units so they are in soft pick-up mode and can pick the gears off the precision table, move away, then lock the FM compliance devices so that high speed motion can occur."

Paxton continues, "We've been pleased with the performance of the IPR FM-160 Compliance Wrist. It gives us the confidence that these handling robots can reliably pick-up the gears from the precision table without causing damage, or a fault. It's a key feature of these handling systems."

IPR Robotics, Inc. is a wholly-owned subsidiary of IPR – Intelligente Peripherien fuer Roboter GmbH, located in Schwaigern, Germany, which has been in business since 1989. IPR's global product offering includes a broad range of standard end-of-arm components including grippers, compliance wrists, alignment devices, tool changers, load limiters, force/torque sensors and Robot Transport Units (RTU or rails). IPR Robotics has been in the US since 2003 and excels at combining these components into complete EOAT solutions to meet the needs of each application.

IPR provides the Hands and Feet of robots!