CleverLevel: Reliable Limit Detection for Bulk Goods
The different media characteristics of bulk goods frequently pose technical challenges for commonly-used sensor systems when measuring limits in storage silos and process tanks. Under physical influences such as temperature variations or changes in pressure, these sensors quickly reach the limits of their operating capabilities. Baumer's CleverLevel series, based on frequency sweep technology, provides a highly flexible and secure solution for performing measurement tasks in these types of application.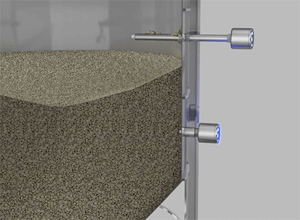 In the food industry, bulk goods in the form of powdery flour, fibrous spices, fine sugar, coarse coffee and cocoa beans, or whole nuts, are stored temporarily in various large silos or processed in mixing tanks. To ensure that all production steps function smoothly and meet the industry's high quality standards, the solids must not be allowed to go above or below a specified filling level.
In many applications it is impossible to gauge the level of the media in the tank from outside through a sight glass. When pressure and temperature rise, coffee, cocoa beans and other granular material emit oil and humidity. When they become damp, powdery solids form lumps. In situations like these, it's impossible to detect the level in the silo just by looking through a glass. Common types of electromechanical sensors, such as the rotating paddle or vibrator types, may give faulty indications, showing the level to be within the limit when it has already been crossed. This can result in unplanned machine stoppages and loss of production, leading to high costs for repair and cleaning. In contrast, CleverLevel, which is maintenance-free, optimises processes and reduces operating costs.
CleverLevel limit switches are available in different versions to allow them to be used in almost any application and positioned where they can work best in the process. In the standard version, the tip of the sensor protrudes only 12 mm into the interior and this allows it to be optimally positioned even with tricky tank geometries or with built in mixers. The 100 mm or 250 mm long variant with a sliding connection can be positioned deeper in the tank. This prevents sticky deposits forming on the tip of the sensor. If space is restricted, the suspended variant can be used and installed from above, through the top of the silo. This is can be used for example when hexagonal silos are grouped together on a small surface. In this configuration, installation of the limit sensors on the silo walls is only possible in some cases.
Innovative technology
The CleverLevel series operates with frequency sweep technology. Its electrode emits a high-frequency signal from the tip of the sensor into the tank. The medium works like a virtual capacitor that creates a resonant circuit with a spool in the sensor head. The size of the capacitor depends on the dielectric constant (DK-value) of the medium which thus alters the resonance frequency. Between air and the medium there is a significant difference in the DK value. The frequency shift of the resonance circuit associated with this is processed by the integrated microcontroller with a high margin of safety.
The CleverLevel can detect almost all media with a DK value greater than 1.5. It can not only accurately detect solids with different granularities but also viscous media and liquids.
Using the size of the DK value, the limit switch can also detect separate media layers, for example oil on water. If needed, this capability can be used to accurately distinguish between foam and the liquid limit level. The CleverLevel is ATEX, EHEDG and 3-A certified. This ensures safe functioning even when using explosive hygienic environments that occur in the food processing industry when handing powders and bulk goods that generate dust.
About Baumer Group
The Baumer Group is an internationally leading manufacturer of sensors, encoders, measuring instruments and automated image-processing components. Baumer combines innovative technology and customer-oriented service with intelligent solutions for factory and process automation and provides a unique range of products and technologies. The family company has around 2,300 employees with manufacturing facilities, sales offices and agents in 37 offices and 19 countries, always close to the customer. With consistently high quality standards worldwide and a huge potential for innovation, Baumer brings their customers critical advantages and measurable added value across many industries.
Company Contact
Martina Mergl - Marketing Manager Process Instrumentation
Tel: +41 52 728 17 60