Centerless Grinder Automation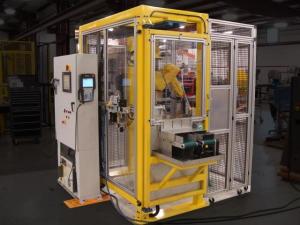 Customer Information - The customer runs a precision machine shop manufacturing a great variety of parts for the industrial, commercial and aerospace markets. Part volumes are low to medium.
Application - Automation of a Royal Master TG - 12 manual centerless grinder.
Background - The company typically uses a single operator per shift to grind stainless steel and aluminum bushings to tolerances of +/- 0.0001". Lot sizes range from 25 to 3000 parts, contributing to multiple job changes per shift. The grinding area operates 2 shifts per day and 5 days per week.
Problem - A single operator is responsible for setting up and operating one or two centerless grinders at the same time, depending upon the product mix being run. Many times it is not practical or possible for one operator to run both grinders at the same time, requiring another operator to be pulled from a different machining cell to operate the second grinder. Safety is also a primary concern with centerless grinding, as it involves placing a part between two rotating wheels by hand which is not only a dangerous task, but a monotonous one as well. One mistake during the loading process can cause serious injuries.
Solution - The customer decided to automate one of the centerless grinders. In doing so, the grinding operator would still be responsible for setting up both machines, but would only have to operate one of the grinders. The automated grinding cell would be run by the existing machining cell operator who could run both cells with no loss in efficiency. Cycle times would decrease and throughput would increase, while the direct labor costs associated with the grinding area would be reduced. Operator safety is also increased with the automated loading of the parts into the grinder.
Equipment Used
A FANUC LRMate 200iC 6-axis robot, invert mounted on a pull back track for maintenance
Single mechanical gripper with multiple stepped gripper fingers
Air knife part cleaning station
Structural tube support frame with swing away infeed/exit belt conveyors
Controls included a large HMI with parametric part programming and a bar code scanner for part selection
Robot program also featured auto compensation for grinding wheel dressing
Safety enclosure with interlocks
Results - Since implementation of the automated grinding cell in December 2009, the charged run time for grinding has been reduced by 47%. In March, 178 hours of run time were charged to grinding while a year ago in March 2009, 333 hours of run time were charged.
Customer Testimonial - "We are very pleased with the services provided and work done by the people at Automated Cells & Equipment. They provided us with an automated cell that gave us exactly what we wanted and then some. All of the people we worked with were friendly and great at taking in all of our ideas and improving upon them to help achieve our goals. We plan on working with ACE for our future automation needs."