Case Study: Collaborative Robot System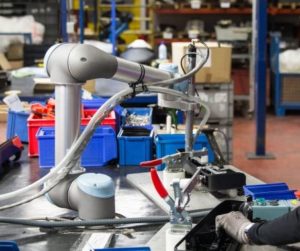 A global OEM needed to automate 30 existing manufacturing lines across 12 plants. The OEM selected Collaborative Robot ("Cobot") technology due to Cobots' simplicity, flexibility, and presumed safe operation. To implement the Collaborative Robot systems, they chose a custom machine builder that accelerated the schedule by taking exception to supposedly nebulous "safety standards". Six weeks later, the machine builder delivered a seemingly impressive Collaborative Robot assembly system to the plant. Engineers quickly completed commissioning and the Collaborative Robot system went into production. As the Collaborative Robot worked in close proximity to the plant associates, troubling questions weighed on the project team….
Is this Collaborative Robot system safe?
How can we validate the safety of the Collaborative Robot system before duplicating it?
If we ship these globally, will we comply with global safety standards?
What if the Collaborative Robot hurts someone?
What about OSHA?
The OEM called Machine Safety Specialists (MSS) to solve these concerning problems. Prepared to help, our TÜV certified machine safety engineers discussed the Collaborative Robot system, entered an NDA, and requested system drawings and technical information. On-site, we inspected the Collaborative Robot, took measurements, gathered observations and findings, validated safety functions, and spoke with various plant personnel (maintenance, production, EHS, engineering, etc.). As part of our investigation, we prepared a gap analysis of the machine relative to RIA TR R15.606, ISO 10218-2, OSHA, ANSI, and ISO standards. The final report included observations, risk assessments, and specific corrective actions needed to achieve US and global safety compliance. Examples of our findings and corrective actions include:
Identification of the correct safeguarding modes (according to RIA TR R15.606-2016 and ISO/TS 15066-2016).
Observation that Area Scanners (laser scanners) provided by the machine builder were not required, given the Cobot's modes of operation. Recommended removal of the area scanners, greatly simplifying the system.
Observation that the safety settings for maximum force, given the surface area of the tooling, provided pressure that exceeds US and global safety requirements. Recommended a minimum surface area for the tooling and provided calculations to the client's engineers.
Observation that the safety settings for maximum speed were blank (not set) and provided necessary safety formulas and calculations to the client's engineers.
Recommended clear delineation of the collaborative workspace with yellow/black marking tape around the perimeter.
With corrective actions complete, we re-inspected the machine and confirmed all safety settings. MSS provided a Declaration of Conformance to all applicable US and global safety standards. The customer then duplicated the machines and successfully installed the systems at 12 plants globally, knowing the machines were safe and that global compliance was achieved. Another success story by MSS…