Case Palletizing at SICO-MULCO
POSTED 01/01/1900
 | By: Mary Kay Morel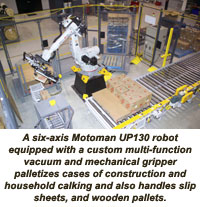 SICO Inc. manufactures and distributes trade, industrial, and specialty paints, varnishes, stains, coatings, caulkings and adhesives to Canada, Mexico, United States and Europe under a variety of brand names. SICO Inc.'s St-Hubert's plant in St-Hubert, Quebec, Canada, recently implemented the company's first robotic palletizing workcell to stack cases of various types of MULCO brand construction and household caulking onto two sizes of wooden pallets using six different palletizing patterns.
Full pallets consist of two to three layers, with slipsheets as required. One palletizing pattern requires the robot to stack a second wooden pallet and two additional layers of product on top of the first full load to make a double pallet load.
In addition to producing tight, stable loads on the pallets, the robot also is required to invert some types of product for storage purposes, and to reorient the cases to keep labels face out whenever possible. The robot uses a stationary regrip station to invert product.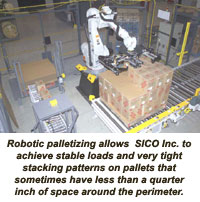 Cases are not always perfect squares, and some stacking patterns are very tight, with less than a quarter inch of space around the perimeter of the pallet.
The custom solution integrated by Motoman Inc. (West Carrollton, Ohio) consists of a Motoman UP130 robot with XRC2001 controller; multi-function vacuum and mechanical gripper for handling cases of product, slipsheets and wooden pallets; infeed and outfeed conveyors; operator station, a case reorientation station; two pallet racks; a slip sheet rack; safety relay programmable logic controller; and comprehensive safeguarding package. Safety equipment includes wire fencing, one conveyor pass-through opening (protected by a three-sided enclosure to limit the operator's reach into the cell); self-muting light grids at the pallet outfeed area; two operator access gates and two dunnage gates with safety interlocks; and remote-mounted emergency stop (E-stop) buttons.
Motoman provided the custom, multi-function end-of-arm tooling, consisting of a two-zone 20''L x 12''W vacuum gripper that handles the cases and slip sheets, as well as a mechanical PalletGripper™ that handles the two sizes of wooden pallets. A built-in sensor checks the height of pallet and/or slip sheet stacks.
Load stability of the palletized cases is important, but the primary reasons for automating the operation were to increase productivity and reduce manpower.
''The speed of the line is determined by the output rate of the filling machine which produces three cases per minute, spaced at approximately 20-second intervals, '' says Pierre Longuez, Plant Manager at SICO. ''The robot easily meets the required palletizing rate. In fact, the robot has to wait on the filling machines. However, these cases of product can weigh up to 35 lbs each. After palletizing several hundred cases per shift, human workers get tired, but the robot doesn't –- and we run three shifts of production, five days a week,'' he continued.
''We needed two people per shift to operate the filling equipment and manually palletize cases. With the robot, we reduced that number to one operator per shift, to run the whole line,'' says Iftikhar Shah, Production and Maintenance Supervisor at SICO. ''The robot has made their jobs much better, and they like it,'' Shah adds.
''Different types of caulking are produced in batches. Changing over between the six different palletizing patterns is easy. The operator selects the program using a thumbwheel switch on the operator station. Operators don't have to be programmers,'' explains Shah, who took programming training at Yaskawa Motoman Canada's Mississauga (Toronto) facility. ''The Motoman application technician who was here for the installation programmed the six patterns; I've just made minor changes since then, like changing speeds,'' he explained.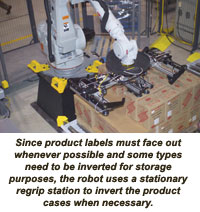 In addition to producing tight, stable loads on the pallets, the robot also is required to reorient some types of product to make sure a particular end is up for storage purposes, and that the labels face out whenever possible. ''Cases are not always perfect rectangles, and some stacking patterns are very tight and must be centered with less than a quarter inch of space around the perimeter of the pallet,'' Shah says.
The 12-ft constant run , live roller spool infeed conveyor includes a diverter to help locate each case properly for robotic pickup, and a sensor tells the robot when a case is available. The 25-ft chain driven live roller (CDLR) outfeed conveyor has multiple zones, and can hold up to six full pallets of product, so no intervention is required for one batch. The system also includes a 5-ft gravity roller at the end of the outfeed conveyor.
''We use very heavy, good-quality pallets. We now have to be more careful to stack them in a nice build-up with the tops square and make sure no planks are missing,'' Shah adds. ''The robot system is equipped with sensors to determine pallet presence, but it doesn't know if a plank is broken or if the pallet is a little small,'' he says.
''People can see these things. That's one of the advantages human operators have over the robot, but overall the benefits of robotic palletizing far outweigh these disadvantages,'' Shah continues.
The payback for this palletizing project is approximately two years, according to Longuez.
''We've had a good experience with installation and all services from Motoman, and the system has been in production since April,'' Shah says. ''In a couple of instances, they've been able to talk me through making minor changes and adjustments over the phone,'' he continues.
''Due to the success of this project, it would not surprise me to see more robots in other SICO plants,'' Longuez adds.