Carbon Fiber Part Router Trimming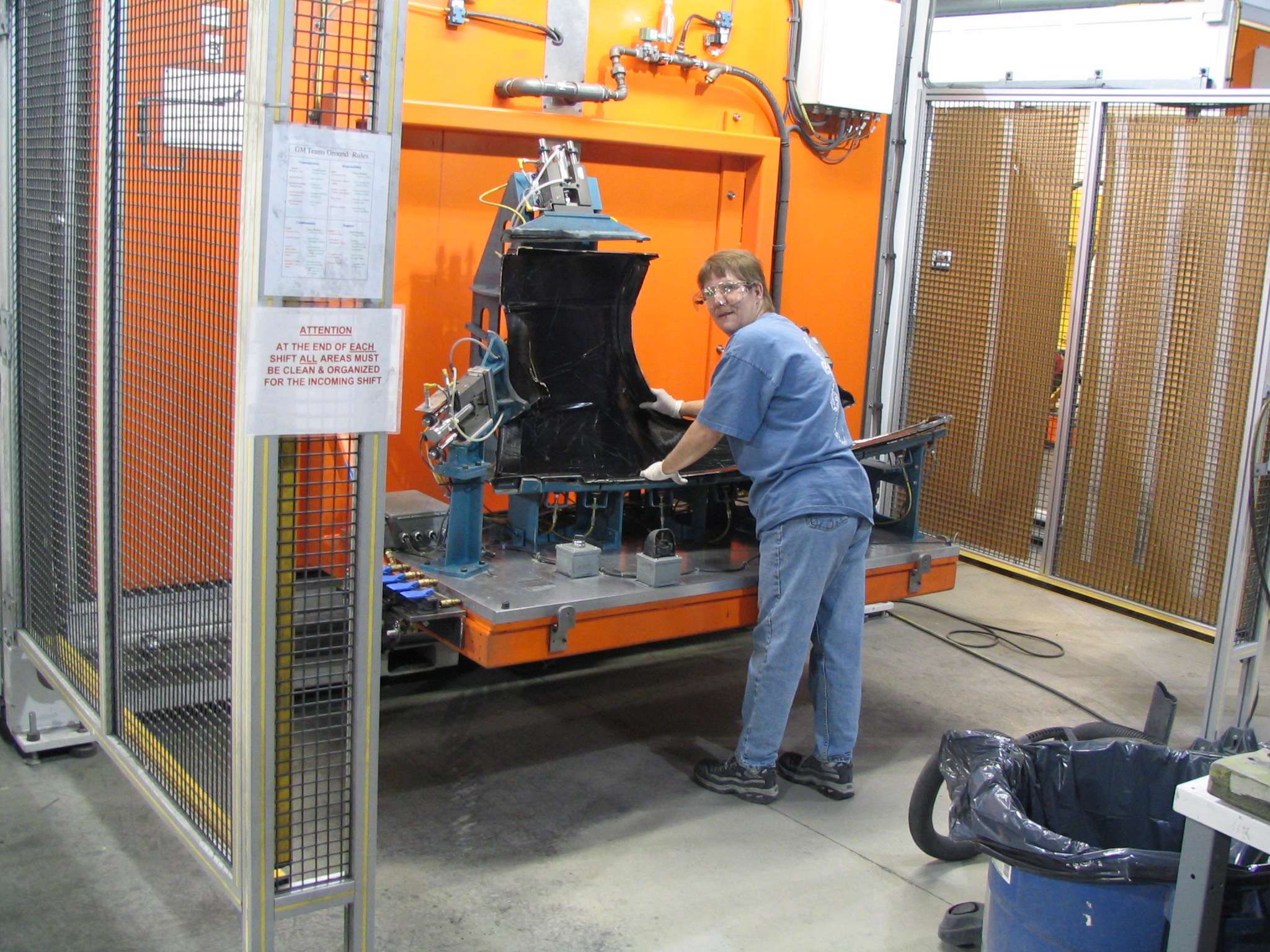 Challenge
PlasanUSA, a Vermont, USA, based manufacturer of custom carbon and fiberglass composite automotive components, is a major supplier of automotive fenders, hoods and roof panels for leading American sports cars. When Plasan (then Vermont Composites) won the business to develop front fenders for the Chevrolet Z06 Corvette, it needed a robotic system to shorten cycle time and contain the harmful dust created during the trimming process. In the past, Plasan manufactured the front fenders with hand layed, autoclave-cured carbon/epoxy prepreg and manually deflashed, trimmed and drilled the parts – a process that took more than an hour.
Solution
KMT Robotic Solutions Inc. of Auburn Hills, Mich.,USA, (then Robotic Production Technology) worked with Plasan to choose the best automated trimming method. In KMT's Process Solution Center, the companies evaluated abrasive waterjet and router trimming processes to which produced the best cut quality and fastest cycle time. Plasan decided that KMT's RoboTrim® robotic router trimming system and a companion set of software tools offered the best solution. The enclosed system configuration kept operators out of the harsh, dust-filled trimming environment, while the ventilation and filtration system met environmental requirements and prevented the carbon fiber dust from interfering with the trimming process.
When a fender is loaded into one of the two vacuum fixtures, the systems' two-sided servocontrolled table rotates the part 180° into the enclosure in less than three seconds. The floormounted AccuTrim® R-99 robot, equipped with a 3 horsepower spindle, uses a carbide router bit to process the holes and slots and then changes to a similar bit to trim the perimeter. Once the part is trimmed, the table rotates the finished part to the outside of the enclosure as an untrimmed part is rotated inside the system.
Results
The RoboTrim router trimming system is currently operated by an all-female staff. The system can process a fender every 13 minutes — a more than 75 percent reduction in post mold processing time. It currently operates on three shifts and is so successful that Plasan recently purchased an additional system. KMT also provided comprehensive training and part programming assistance.
According to PlasanUSA General Manager Dalton Blackwell, "We found the right tool combination to achieve superior edge quality without excessive tool wear."