Cable Termination System Offers Crimp-free Connections
Axi

Clamp has connector body with solid metal cone that clamps copper cable strands against internal taper on metal sleeve. When screwed tightly together, resulting connection provides long-term contact resistance equivalent to crimping. System comes in versions with plug and socket connections that can be panel mounted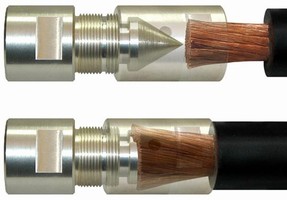 or in-line versions for back-to-back splicing of cable. Connectors are designed for electrical and mechanical connection of copper cables from 6-300 mm², class 5 and 6.

The new AxiClamp cable termination system from Multi-Contact offers the reliability of crimp connections but with the advantage that they can be easily disconnected if required.

The body of the connector has a solid metal cone which clamps the copper cable strands against an internal taper on the metal sleeve. When screwed tightly together, the resulting connection provides excellent long term contact resistance equivalent to crimping.

Two versions of the AxiClamp are available: plug and socket connections that can be panel mounted using the appropriate accessories, and in-line versions for back-to-back splicing of cable.

A rotation device is included with the in-line connectors so that cables do not need to be pre-twisted before connection. The uninsulated connectors can be fitted with a heat shrink insulation sheath after connection if required.

The connectors are designed for the electrical and mechanical connection of copper cables ranging from 6 to 300 mm2, class 5 and 6 according to DIN VDE 0295, IEC 60228. They are vibration tested to DIN EN 60068-2-6, 10g, 10-500 Hz.

One AxiClamp size can be used for a range of cable cross-sections. Four size ranges are offered from 25 mm2 to 185 mm2, with current ratings from 130 A to 450 A. Sizes up to 300 mm2 are available on request.

"Extensive testing was carried out on the AxiClamp system to ensure that its patented design is free from the reliability issues associated with other screw connectors," said Multi-Contact UK managing director Selwyn Corns.

Being able to disconnect the leads can save time and money, as the AxiClamp can be reused. The connectors are particularly suited to applications where cables are at risk of being damaged, when the AxiClamp can be used for a long term repair.

Milton Keynes based Multi-Contact (UK) Ltd is a wholly owned subsidiary of Multi-Contact AG Basel, the leading Swiss manufacturer of precision electrical and electronic connectors owned by Staubli AG.

Multi-Contact develops and manufactures state of the art connector technologies ranging from miniature electronic PCB connectors through to large electrical power connectors, including standard and custom designed solutions.

Applications include power generation and distribution, signal and data processing, and pneumatic and fluid distribution for a wide range of automation, process control, traction and computing requirements.

Multi-Contact connectors are used in medical and health monitoring instruments, test and measurement instruments, telecommunication installations, supercomputers, robotic docking systems, high speed trains, photovoltaic systems and many other products.