Automated Test System Traversing Unit for Rail Inspection
rong>Application: Test System Traversing Unit

Industry: Transportation Sector; Rail Vehicle Sub-Sector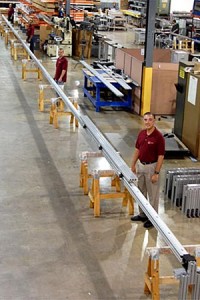 Problem: A measuring sensor module required guidance and tracking over a long distance and at high speed rate. The sensor travel requirement was 36 meters at a speed of 50km/hr.

Solution: Macron 14 Configured With:

Extra long cart
50 mm wide belt
80 x 160 beam (extrusion)
Dual output motor drive pulley

Automation System Benefits:

The Macron 14 linear actuator is the workhorse product and easiest to configure for all kinds of automation, gantry, multi-axis and single-axis motion applications. The track roller guidance system provides smooth cart motion and by adding bearing block assemblies, a variety of standard or application specific cart lengths can be constructed.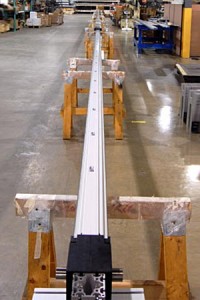 At more than 118 feet, actuator length was quite long in this application but not a problem for the Macron 14. Macron designs are well suited for long distance automated motion requirements and environments. Macron extra long actuators have been installed in applications under the sea, in the air and in factories around the world providing reliable, low maintenance linear motion solutions.

High-Tech Distributor Comment:

"Macron provided a solution to our long length linear motion requirement. In fact, once a distance exceeds 1 meter of travel, Macron is the go to solution. Their application engineers have consistently created rapidly configured solutions that allow us to win projects."