Auto Supplier Adds Handling Robots; Fully Automates Assembly of Engine Manifolds
POSTED 08/10/2007
 | By: Mary Kay Morel
Keihin IPT Mfg, Inc. (KIM), a Tier-One automotive supplier of fuel and air management systems for a leading Japanese automaker, is no stranger to robotic automation. This subsidiary of Keihin Indiana Precision Technology, Inc, (KIPT) implemented their first robot into their die casting area in 1988 and now has 28 robots and approximately 950 employees working at their Greenfield, Indiana, plant. Most of the robots at KIM perform material handling operations, specifically machine tending for die casting, machining, and assembly applications, but they also use robots for sealant material dispensing.
In November 2006, KIM upgraded their semi-automated LEAN assembly cells into fully automated robotic cells with the addition of five Motoman handling robots. The robots load and unload machines that add heat inserts and collars to plastic intake manifolds used in four-cylinder gasoline engines. The robots have improved productivity while reducing cost and direct labor associated with the intake manifold subassembly process.

LEAN manufacturing cells at KIM are designed to reduce/eliminate any redundant motion, processes, and ultimately cost. The plant operates three shifts, 24-hours/day, five days per week, 12 months per year. Cycle time for the cell is 32 seconds.
For five months before the robots went into production, the LEAN cells required four operators per shift to perform loading/unloading operations manually. With the robots, only one operator per shift is needed to run the cells, providing a direct labor savings of nine people per day. Workers used to load/unload the LEAN cells were redeployed to other jobs within the plant and some were trained to run the robot cells. Payback for the systems was only seven months.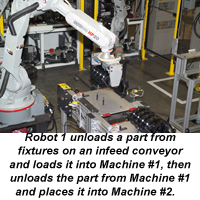 ''Prior to the automation, the operators were simply loading and unloading machines. By implementing the Motoman handling robots, we were able to use the operators elsewhere where automation would be more difficult and reduce the manufacturing cost of the part,'' said Aaron Miller, Engineering Coordinator
In addition to the five Motoman HP20 robots with NX100 controllers, the LEAN cells consist of a load conveyor; seven custom assembly machines with Mitsubishi PLCs used to install nine heat inserts and 12 collars into the manifolds; one custom assembly machine with an Allen-Bradley PLC which places four gaskets into the manifold; and an exit conveyor. Systems integration was done by Dane Systems, LLC. Tooling was designed by KIM and Dane Systems. Each six-axis robot is equipped with a pneumatic parallel gripper that grasps the part on two sides. Each robot handles only one part at a time.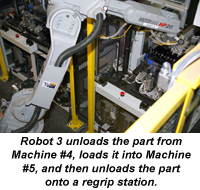 The assembly process is linear and consists of eight stations. The layout in the manufacturing area is U-shaped, allowing each of the five robots to perform three load/unload operations. The layout configuration save floorspace while maximizing the utilization of capital equipment.
Robot 1 unloads a part from fixtures on an infeed conveyor and loads it into Machine #1, then unloads the part from Machine #1 and places it into Machine #2. Robot 2 unloads Machine #2, loads and unloads Machine #3, then loads Machine #4. Robot 3 unloads the part from Machine #4, loads it into Machine #5, and then unloads the part onto a regrip station. Robot 4 grips the part from the opposite side and loads it into Machine #6, unloads a part from Machine #6, and loads into Machine #7. Robot 5 unloads Machine #7, loads Machine #8, and unloads finished parts from Machine #8 onto an outfeed conveyor.
For overall cell control, KIM uses an Allen-Bradley Control Logix PLC with Devicenet and Ethernet communication. One main human-machine interface (HMI) controls each robot and machine.
''We decided to use an integrator because of the amount of work required to design the controls systems and the problems with trying to have different PLC types communicate with one another,'' said Marty Hession, Staff Engineer.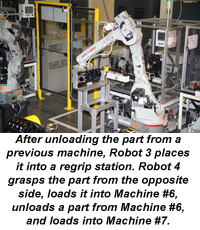 ''Also, we wanted to make sure the cells were safe and OSHA-compliant. Dane has had previous experience with robot cells and experience with KIM,'' Hession added.
''We've been completely satisfied with the robot cells. Both KIM and Dane programmed the robots. Teaching is easy, as the robot software is user-friendly,'' Hession continued.
''The benefits to implementing the robot cells were decreasing our labor cost for the product and utilizing skilled operators in more difficult assembly tasks. The robots also create flexibility for us as we can use them for future processes as the current product phases out, unlike dedicated machine tooling or a custom gantry system,'' Miller said.
''We were very pleased with the expertise of the Dane staff. By working together with Dane early in the project, we were able to install, debug and have the system up and running in one week,'' Miller added.
''We decided to use Motoman because we currently have a large number of Motoman robots at our facility. The robots have proven to be very reliable and the support has always been great. Also, our training needs were minimal because of our familiarity with the products and software,'' Hession said.