At Spinic Manufacturing, Robots Rail Against Recession
POSTED 05/17/2009
 | By: Mary Kay Morel, Staff Writer/Editor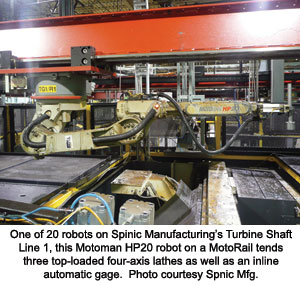 Spinic Manufacturing, a Division of Linamar Corporation (Guelph, Ontario, Canada), is a Tier 2 supplier of automotive transmission components such as shafts and aluminum clutch housings used in front-wheel-drive SUVs, crossover vehicles and cars, as well as other steel and cast iron parts. Since 2005, they have implemented 32 Motoman HP20 robots on multiple lines. Of these, 27 are Motoman MotoRail™ systems (with six-axis HP20 robots on a ceiling-mounted linear track) and five are floor-mounted. Eighteen additional Motoman HP20 robots on two new lines are ready to go into full production when economic recession eases and production capacity requirements increase, as expected.
"We primarily use the robots for machine tending – loading and unloading parts and transferring them between operations," said Jason Balzer, Engineering Manager at the plant. "They service lathes, grinders, special-purpose drilling machines, presses, washers, spline rolling and heat treating equipment, as well as a variety of automatic in-line post-process gages," he explained.
"Depending on the line, each robot tends one to four machines, performing as many as seven different tasks," Balzer continued.
"Spinic implemented robots to increase productivity and safety while avoiding uncompetitive direct labor costs and minimizing floorspace requirements – especially with the ceiling-mounted units," said Balzer. "We have a lot going on in only about 50,000 square feet of manufacturing area, so space is at a premium on our floor," he noted.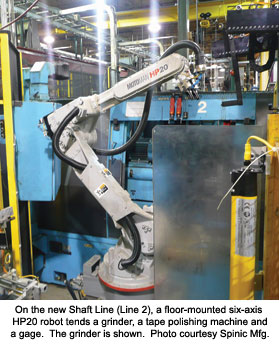 "In addition to reducing footprint requirements for each production line, robots are more efficient and provide more stable and reliable results shift to shift," Balzer said.
The Spinic facility normally operates three shifts, 24 hours a day, five days a week. Dedicated production lines, such as the Turbine Shaft Line and Clutch Housing Line 1 produce approximately 1,300 parts per shift, while Clutch Housing Line 2 produces approximately 625 parts per shift. Steel shafts are approximately 12 inches long, 1.5 inches in diameter and weigh about 3.5 lbs each. Housings are aluminum castings that are approximately 6 inches in diameter that weigh about 2 lbs each.
"Production lines were automated when they were first built, so manpower wasn't actually reduced, but avoided -- easily by 50-70 percent, based on current crewing," Balzer said. "Higher quality levels are achieved, primarily due to automatic post-process inline gaging with machine feedback/compensation and increased error-proofing opportunities," he added.
Spinic installed their first Motoman robots on their Turbine Shaft and Housing lines in 2004 for a 2005 start-up. Turbine Shaft Line 1 has 20 robots (18 ceiling-mounted MotoRail units and two floor-mounted HP20 robots) tending 18 different operations using 32 different machines, as well as nine automatic inline gages. Housing Line 1 has nine robots (eight MotoRails and one floor-mounted HP20). Many of the lathes are top-loaded, so the overhead-mounted MotoRail robots provide easier access to the chucks. Other machines and gages are front-loaded.
In June 2008, Spinic added Housing Line 2, consisting of one MotoRail robot and two floor-mounted robots. These three robots tend a series of lathes and gages, as well as bushing press, special purpose drilling, high-pressure water deburr, leak test and part marking stations.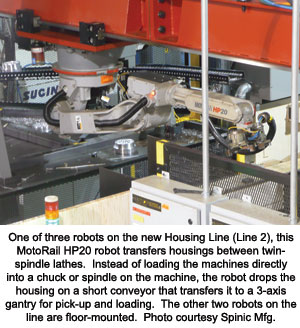 Shaft Line 2 with nine MotoRails and four floor-mounted robots and Housing Line 3 with five MotoRail robots are both installed, approved for production and waiting for volume increases.
"The seven-axis flexibility afforded by the MotoRail solutions was critical for success. We simply could not have done all the things we needed to do with a five-axis robot mounted on a rail," Balzer commented. Motoman HP20 robots have a 20 kg (44.1 lb) payload. Floor-mounted HP20 robots have a 1,717 mm (67.6") horizontal reach and 3,063 mm (120.6") vertical reach with a repeatability of ±0.06 mm (±0.002"), while the MotoRail HP20 systems have an a similar reach, plus a traverse speed of 2.5 meters per second and a total system repeatability of 0.1 mm (0.004").
A third-party integrator designed, built and installed the tooling for these systems, which consists mainly of two-finger parallel and three-finger centric Schunk grippers. Each robot has two grippers per set; one for loading and one for unloading parts.
"The grippers we use are generally pretty simple, especially for the shaft line. The robot can grip anywhere on about 60-80 percent of the shaft," Balzer said. "Housings are similar, since they also don't have many surface finishes that we need to worry about," he explained.
The various production lines are controlled using a combination of Ethernet and DeviceNet communications.
"For our newest product lines, we've integrated the robots using Allen-Bradley Point I/O and Guard I/O for automation and safety control," Balzer said. "When compared to a system using a central cabinet, this architecture allows for the creation of smaller zones or cells which are more manageable and flexible if it becomes necessary to add machines, gages or other hardware requiring I/O," he continued.
Overall, we've been very satisfied with the Motoman robots in our production lines, primarily due to service/support, reliability and flexibility," Balzer said.
"Reliability has been very good. We've had very few warranty-related issues," Balzer said. "Motoman service and support have also been very good – when required, they typically respond quickly with on-site service and usually stock most spare components we would need for proper repairs," he added.
"We sent people to operator, maintenance and preventive maintenance training classes at the Yaskawa Motoman Canada facility in Mississauga, Ontario. The 60-minute drive from Guelph simplified scheduling with our employees and reduced their time out of the plant, compared to traveling to a location outside of Southwestern Ontario," Balzer said.