Arctic Snow & Ice Control Plows up Productivity with New Robotic Welding Cells
POSTED 02/18/2009
 | By: Mary Kay Morel, Staff Writer/Editor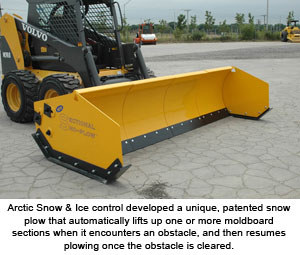 Founded in 1978 as a contract snow and ice removal company, Arctic Snow & Ice Control, Inc. has developed a unique, patented sectional snow plow that automatically adjusts when plowing over obstacles up to nine inches high. This feature allows their plows to clear snow and ice in one pass, while reducing damage to pavement, obstacles and the snow removal equipment. Demand for their innovative, highly efficient "Sno-Plows®" has snowballed in the cold, icy Midwest.
During the snow season (mid-November through mid-April each year), Arctic Snow & Ice Control employs nearly 500 people. Year-round, the manufacturing side of the business employs 20 full-time workers in their 67,000 square foot plant in Bradley, Illinois. Operating 16 hours a day, six days a week, Arctic Snow & Ice Control could weld enough moldboard (snow blade) sections and frames to produce only five or six finished snow plows a day (two or three per shift) and wanted to double that capacity while operating one 10-hour shift five days a week. Their goal was to produce about 50-60 moldboards per day – enough for approximately 10 to 12 snowplows. The company needed a way to increase their productivity in an area of the country where skilled manual welders are scarce and expensive.

"Implementing robots has improved our productivity six to seven times over our previous manual welding process. Our business is growing as a result and we are planning to hire more workers to help keep up with the robotic welding cells," said Jeff Sexton, Director of Manufacturing who has been with Arctic Snow & Ice since 2003.
Sexton had been interested in robotics since he was a teenager. He and the company's founder and owner, Randy Strait, realized that robotic automation offered a clear path to reach their goals. In 2007, they went to the Fabtech trade show in Chicago to see first-hand what robotic welding had to offer. They knew they wanted a one-stop solution from a company that would provide robotic systems integration and a full range of training and support services – not just the robots. From the start, one robotics company impressed them with their professionalism, technical expertise and full range of complete robotic solutions.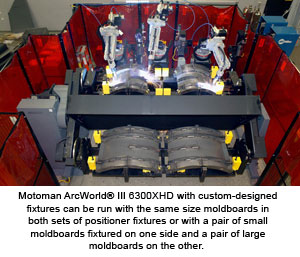 In October 2008, Arctic Snow & Ice installed the first of two Motoman robotic welding solutions – one for welding large or small moldboards and a second cell to weld the snow plow frames. A variety of snow plow sizes are available with three to eight moldboards sections in each, but the most popular models are comprised of four to six sections.
MOLDBOARD WELDING CELL
Made of 0.125" A36 mild steel, large moldboards are approximately 32" W x 42" H and weigh 110 lbs and small moldboards are 30" W x 30" H and weigh 80 lbs. Depending on the model, each moldboard requires approximately 65 welds that range from three to four inches in length. Manually welding the large moldboards requires 40-45 minutes, while the smaller models require 30-35 minutes.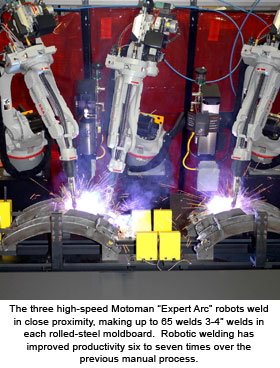 "We knew from experience that welding the rolled steel moldboard parts requires shorter welds performed in a specific sequence to avoid part distortion," Sexton explained. "Shorter welds are stronger, and won't fracture in the field, despite the cold environment and constant stress the snowplows undergo as they perform snow and ice removal."
The high-productivity three robot cell they implemented to weld moldboards is a standard, pre-engineered Motoman ArcWorld® III 6300XHD with custom-designed fixtures. The ArcWorld cell consists of three Motoman SSA2000 "Super Speed Arc" welding robots, the newest and fastest models in Motoman's application-specific "Expert Arc" series, featuring a 3 kg (6.6-lb) payload, 1,390 mm (54.7") reach, and ±0.08 mm (±0.003") repeatability. The streamlined design of the SSA2000 robots improves torch access into tight places. Integrated upper arm cabling eliminates cable flip, reduces harness wear and maintenance downtime while preventing interference between the robot arms, fixtures, positioner, and other equipment.
All three robots are programmed using a single teach pendant and an NX100 TRC (triple robot) controller. Advanced features in the Motoman NX100 controller simplify programming of the three robots and allow them to work in very close proximity without collision.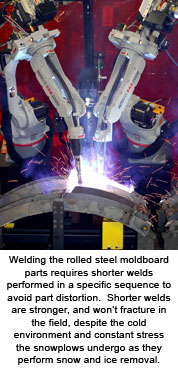 The robots are equipped with Miller Auto-Axcess® 450-amp welding power sources and water-cooled Motoman Tough-Gun® torches. The torches use 0.045" steel wire that is automatically fed from 1,000-lb spools. Shielding gas is a 75/25 mix of Argon/CO2. Three reamer/sprayer nozzle cleaning stations with automatic wire cutters are included. Motoman's high-speed ComArc touch-sensing weld function is used.
The ArcWorld cell includes an AC servo-driven Motoman MRM2-900M1X dual headstock/tailstock trunnion positioner with a 900 kg (1,984.2-lb) payload capacity per side and 6.5-second sweep. The span between the headstocks and tailstocks is 3.0-m (9.8 ft).
Motoman provided two sets of custom fixture frames, one per side of the positioner, with two fixtures per frame. The system can be run with the same size moldboards in both sets of positioner fixtures or with a pair of small moldboards fixtured on one side and a pair of large moldboards on the other. Minor, manual changeover of fixture details is required to allow each fixture to hold pairs of large or small parts.

The ArcWorld cell includes cell guarding that meets the ANSI/RIA 15.06-1999 safety standard, including eight-foot high safety fencing with arc flash protection curtains, a personnel access gate with positive-break safety switch and dual-channel hardware; light curtains at the positioner load/unload stations, and a three-color status beacon.
"We had the new ArcWorld cell up and running moldboard production within two days of getting it on our floor," Sexton said.
"Motoman's application technician did the initial programming of both sizes of moldboards for us initially. I've taken training at the Motoman Technical Center and currently do most of any robot programming and maintenance," he added. "Motoman's training is extremely good and we plan to send another one of our guys soon," Sexton said.

FRAME CELL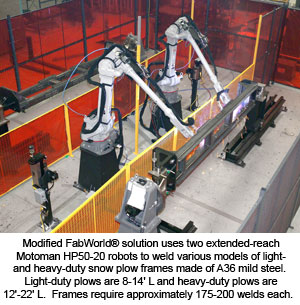 The second Motoman cell is a modified FabWorld® solution used to weld various models of light- and heavy-duty snow plow frames made of A36 mild steel. Light-duty plows are available in 8', 10', 12', and 14' lengths and heavy-duty plows come in 12', 14', 16', 19' and 22' lengths. Longer frame lengths are not welded in the robot cell. Frames require approximately 175-200 welds each. Most are single-pass welds approximately 101.6-127 mm (4-5" L); some require two passes and/or weaving.
The frame welding cell consists of two extended-reach Motoman HP50-20 robots controlled by an NX100 DRC (dual robot controller programmed using a single teach pendant). This cell uses the same kind of welding equipment, peripherals and shielding gas as the first cell, but has two AC servo-controlled Motoman MHT-1600 headstock/tailstock positioners. These feature a 3,000 kg (6,613.8-lb) rated load, 3.28-sec 180-degree sweep, and 10.6 rpm headstock speed.
Drop pins or screw-down clamping bolts are used respectively to lock the positioner head- and tailstocks in place along manually adjustable mobile sub-bases (linear slides). One pair of sub-bases is used for part lengths from 8-19 ft and the other pair is used for part lengths from 8-22 ft. Pin and bolt positions for each part length are numbered and color-coded for ease of operator use. This flexible approach permits the centerline of each part to be maintained in the same position, regardless of frame length. It also facilitates programming by allowing points to be taught on one side of the positioner and then shifted to the other side (as a mirror image) with only minor touch-up required.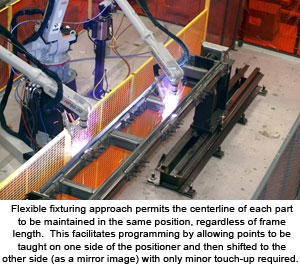 Motoman also provided two sets of fixture receivers per headstock/tailstock positioner (a total of four bolt-on fixture adapters). Each positioner has one set for light-duty frames and another for heavy-duty frames. The operator bolts fixture adapters to parts off-line and uses an overhead crane to lift them into the headstock/tailstock fixture receivers.
Cell guarding also meets the ANSI/RIA 15.06-1999 safety standard, and includes 2.4-m (8') safety fencing, one personnel gate, four sliding doors (two at each positioner load/unload station), arc flash protection curtains, and a three-color status beacon.
"We can weld about three frames a day manually and we wanted to make 10 per day on a 10-hour shift," Sexton said. "The robot cell surpasses our goal. For example, it can weld 12-ft frames in about 42-45 minutes. That's 25-30% faster than our requirement, with similar stellar results for other frame sizes," he added.
"Weld quality with the robots in both cells is absolutely excellent. Now we have consistent high-quality, good-looking welds with the proper penetration every time. Consistent welding has led to better fit-up, too," Sexton explained.
"At first, our guys were afraid that robots were coming in to take their jobs, but they quickly realized that they were going to produce a lot more work," Sexton said. "Now they are all vying for the chance to work with the robots," he continued.
"Finding skilled manual welders isn't easy these days. We've had to bring in greenhorns that have never worked with iron before and train them in how to weld and do our process. Their welds don't all look the same. Now, with the Motoman robots, we get consistent welds that all look the same every time. It makes things a whole lot better." Sexton said.
"Our guys have been working up to 16 hours a day, six days a week. Now that we can make moldboards and frames so much faster, we hope to get to one 10-hour shift per day, five days a week," Sexton said. "I'm looking forward to being able to spend more time with my family, thanks to the robots," he added.