A Robot Palletizer for the Sugar and Flour Industry
POSTED 01/01/1900
 | By: Gabriele Folli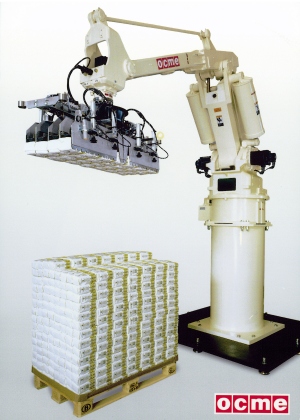 Problem:
In recent years, strong competition and the need to find new purchasing stimuli for the consumer, has led large distributors to develop new sales outlet shelving concepts. As was the case in the mineral water and soft-drinks sector, solutions have also been developed for 1 kg bags of flour and sugar which involve placing the counter in the sales outlet, so that the consumer can pick the packages directly. The supplying of pallets with loose items, rather than grouped together in bundles or boxes also proved to be decisive. This solution produced significant savings in the costs of secondary packaging materials and those for the personnel assigned to the arranging of the packages on the shelves. It is also easier for the consumer to select the item to be purchased because he does not have to open bundles or boxes, leaving waste packaging materials on the shelves. OCME, always a close observer of market changes and the requirements of production flexibility, has developed an innovative end-of-line solution for the treatment of 1 kg bags of flour for an important flour mill based in northern Italy.
Solution:
The plant comprises a system for the gathering and preparation of the bags, combined with a state of the art PEGASUS palletising robot. The grip component, which was designed specifically for this application, is able to palletise products coming from 2 packaging lines, each working at a rate of 90 bags/min, and with a maximum possible speed of 196 bags/minute. Particular attention was given to the design of the grip system which, because suction-cup systems are not very reliable when handling bags of flour (high probability of dust passing into the vacuum system), uses mechanical hooks with a grip which can be modulated.
The system is designed to handle pallets of size 800x600 and 1200x800, with a palletising scheme of 56 bags/layer for 17 layers with the placing of inserts every 3 layers. The same grip head is able to handle the bags and the inserts. Furthermore, the robot is very versatile because, in addition to palletising 1 kg bags, it is also possible to change the grip head automatically, by simply introducing data into the computer and with no human interventions, to palletise larger bags and bundles.