A Masterpiece in Motion: Chrysler Gets In Sync with Siemens
You would expect fender benders in Chrysler's test facilities, but not in the paint prep shop at the manufacturer's minivan assembly plant in St. Louis.

Transport chains and heavy mechanical carriers move about 1,000 chassis of the popular vehicle every day through a series of hot phosphate treatment stations, protective anticorrosion baths known as E-coat, and searing ovens. Each step readies the chassis for paint and a long life on the road.

The highly complex conveyor system runs the length of five football fields. It relies on synchronization and load sharing to keep the vehicles evenly spaced and on track, especially as they travel through the critical transition points between stages. But the eddy current motors and drives, installed in 1994 to power each phase of the minivan paint prep process, quickly grew out of date and badly out of sync, causing costly plant downtime.

"The motors and drives we used to sync up phosphate, E-coat, and oven station conveyors and the transfer points between the stages were state-of-the-art in their day, but they were never aligned properly and could not communicate with each other or the control room," said Dave Powell, an industry veteran and senior paint facility engineer for Chrysler's St. Louis South Minivan Assembly Plant. "The transport chains would get stretched and stressed over time, with extremely heavy vehicle loads lowered and lifted as much as 35 feet into and out of vats and baths. The system was unable to detect the stress points before it was too late." The chains would fracture and break all too often.

The Elusive Synchronous Nirvana

By 2004, Powell and his paint shop team had reached their breaking point as well in search of the elusive synchronous nirvana. A few years earlier, Chrysler looked to a major industry provider for some much needed relief – only to be disappointed. The Variable Frequency Drives (VFDs) that were integrated into the system failed to solve the problems that had plagued the paint prep line for nearly a decade.

"When a conveyor chain breaks or transfer points are missed in paint prep, the entire assembly plant can be down for hours," said Powell. "You've got cars slipping into the tanks of hot phosphate and occasionally running into each other on the steep anticorrosion lines. The result is a multi-car pileup that you never saw coming."

To make matters worse, during that initial VFD upgrade a conveyor system motor pulley was replaced with the wrong tooth count. The faulty fitting only added to Powell's headaches for years to come. That is until Siemens Energy & Automation would later discover and correct the mistake during the installation of an innovative electronic solution that would forever change the operation of the paint prep lines.

A Christmas to Remember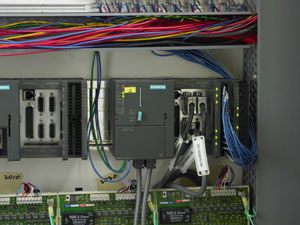 Ahead of the 2004 Christmas Holiday break, Powell gave the green light to Siemens. Siemens, local systems integrator ICC, general contractor Sachs Electric, and Chrysler developed and engineered a customized, cutting-edge solution for the paint shop based on a breakthrough motion and control system called SIMOTION.

SIMOTION, with its electronic line shaft, serves as a virtual speed wheel or gear box that sets the pace for every drive powering each conveyor system carrying minivans through paint prep. The result is a single motion conveyor system. When matched with Siemens VFDs, encoders and control software, SIMOTION can operate in sync and detect even the slightest fluctuations in speed and chain torque.

"The company that originally built the conveyor system never could get it to stay in sync more than a week or two at a time," explained Powell.

"Generally, you don't think about a motion solution when you're moving cars around on a conveyor," said Brian Pollock, regional motion specialist for Siemens. "But when you're trying to match transfer points between phosphate, E-coat, and oven conveyor systems, motion is the only reliable solution for an application that relies so much on critical timing."

"Our teams worked 24-hour days for nearly 30 days during the Holiday plant shutdown," said John Germanos, president of ICC, a full-service engineering firm and Siemens systems integrator based in St. Louis. "We gutted most of the existing drives and control panels, then wired and built a brand new system on the fly. We turned three separate conveyors into one seamless, flexible, single motion system that has greatly enhanced the performance of the paint prep lines. And we completed the conversion to SIMOTION without affecting production – the cars never stopped running."

Improving the Bottom Line on the Assembly Line

By January 2005, Chrysler had a synched up paint shop conveyor system the likes it had never seen before.

"It's not only a statement about the excellence of Siemens motion and control solutions, but proof positive of the commitment and expertise of Siemens people and partners," said Powell. "As far as I know this is the first-of-its-kind solution in the automotive industry."

Like Powell, Chrysler Corporation quickly took note of the dramatic difference Siemens' SIMOTION has made on the St. Louis minivan assembly line and the bottom line. Improved performance has led to higher productivity and increased uptime.

The magic of Siemens' motion solution is not limited to its ability to control the positioning and speed of multiple drives powering Chrysler's multiple conveyors in the paint shop. It can communicate. The information provided to control room engineers and the maintenance department still has Powell and his team in awe.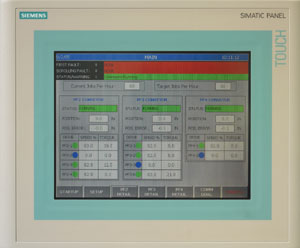 Two communications networks, enabled by PROFIBUS, provide continuous data flow straight from the assembly line. One high speed link, running at 12 megabauds, monitors activity between SIMOTION and three ADI boards (interfaces between motion and the VFDs). A second, low speed network running at 1.5 megabaud supports the Human Machine Interfaces (HMIs) touch screen panels located in the field and the control room.

A Picture Worth a Thousand Words

The touch screens deliver an unprecedented real-time view into every facet of the paint prep conveyor system.

"That screen in the control room is like a constant heart monitor on the electronics, mechanics, and technologies behind our paint shop lines," explained Powell. "You can see the load on each drive. If a drive gets out of sync or slows down for any reason, we'll know it immediately. We can monitor it, trend it, or take it off line. The technological limitations of the previous systems had us running blind. Nothing we've ever used before compares to the solution Siemens has provided."

The visual screens in the control room enable Chrysler engineers to operate the demanding paint prep conveyor system with more insight and confidence than ever before. Field screens allow maintenance teams to constantly monitor the overall health of the system and make preventative check-ups and updates on the go.

"The maintenance department is our life blood," said Powell. "They've got to be able to monitor every movement on the line to understand how the conveyor systems are operating and what they need to do to keep them humming right along."

Poetry in Motion

Powell has become a Siemens ambassador of sorts, sharing the success of his extreme paint prep line makeover with engineers in the motor division, transmission and stamping lines, and anywhere the job calls for multiple drives and multiple conveyors.

Siemens and ICC have already been tapped for additional projects at the South Assembly Plant in St. Louis and other plants in the Chrysler facilities network.

"We've been working with Chrysler ever since we completed the conveyor system conversion on the paint prep line," said Germanos of ICC. "SIMOTION is an incredible solution for a broad range of applications across virtually every industry in the world."

When the Chrysler minivan rolls off the St. Louis assembly line, it's sporting more than next generation air bag protection and an advanced V6 under the hood. There's an engineering marvel behind that popular Inferno Red and Midnight Blue paint job, too.

Dave Powell sees the value in Siemens' SIMOTION solution, its people, and partners ICC and Sachs Electric, with every minivan that travels the smooth road through his paint shop. "I wouldn't hesitate at all in recommending the dedicated and professional Siemens team for tough, high risk projects, said Powell. "In painting terms, Siemens really has produced a masterpiece in motion for Chrysler."


Contact:
Steve Bender
865-288-0156
[email protected]