The History of Drones in the U.S.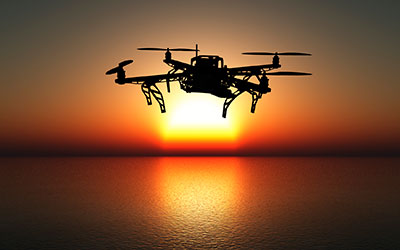 When they think of drones, the average person might think first about innovative technology on today's battlefields. The truth, though, is that unmanned aerial vehicles have a much longer history and a much more diverse future than that would suggest. Drones are used for all kinds of healthcare, emergency response, law enforcement, artistic, and recreational applications.
Let's take a closer look at the rich and intriguing history of drones.
When Was the First Drone Invented?
These days, we think of a drone as a flying vehicle that does not require a pilot and can be operated from afar. By this definition, the first drones started to appear in World War II. Found on both sides of the conflict, they were relatively simple by today's standards.
By the 1960s, refinements in transistor technology made radio-controlled technology cheaper than ever before. This marked the start of a collective American fascination with RC planes – a distant echo of the enthusiastic community that would embrace quadcopter and drone technology just a few decades later. Like many of today's hobbyist drones, these planes came in a kit that had to be assembled by hand, no doubt inspiring the careers of many engineers.
Modern Drone Technology Takes Off
For years, the unmanned aerial drone was a concept, but not a widespread reality. Then, in 1982, the Israeli Defense Force used drones in an innovative way to confound Soviet radar and anti-aircraft systems. For the next few decades, a quiet revolution in aerial defense took place. General Atomics introduced the iconic MQ-1 Predator. However, it took years of development before drones went commercial.
The Parrot AR Drone by French engineering firm Parrot is a smartphone-operated quadcopter that was first introduced to the public in 2010. Now in its second generation, it stakes a claim as the original commercial drone that captured the imagination of America. By December of 2015, consumers had purchased millions of drones as the FAA scrambled to launch drone registration.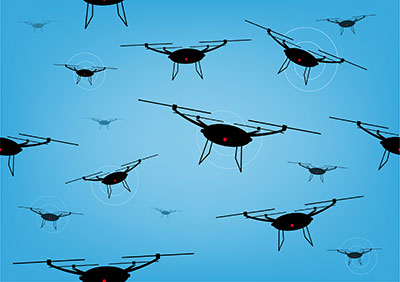 Today and the Future
Today, there are drones being used regularly in dozens of different civilian applications – and more being developed seemingly every day. In January 2016, concrete details started to emerge about Amazon's plan to use drones for expedited delivery. The ubiquitous e-commerce brand became the most high-profile name in the race to apply drone technology to logistical challenges.
That's not all! Drones have made appearances in search and rescue missions, during emergency response, and as advanced still photo and video cameras. They are used in avalanche mitigation and advanced agriculture. Naturally, they remain extremely popular with consumers of all ages and backgrounds, with sales continuing to be impressive.
With innovation coming faster than ever, the future of drones is bright!