The Future With Service Robots Draws Nearer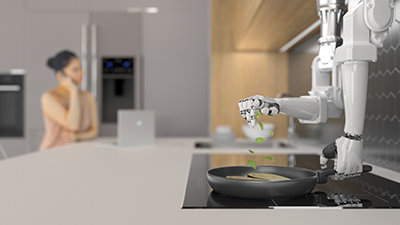 The service robot is already having an impact on businesses throughout the world. From logistics to farming to manufacturing, robots equipped with mobility, navigation systems, and advanced AI algorithms are performing complex tasks such as picking orders, delivering packages, and answering customer inquiries.
Humanoid Service Robots Offer Help
One especially exciting class of robots are humanoid, which means they look like and behave as humans do. One humanoid service robot, called Romeo, was designed to help the elderly who have lost their own autonomy. Romeo can open doors, walk upstairs, and even pick up objects for those who need assistance. With the aging population, nursing homes and assisted living facilities are crowded. Romeo can help the elderly live independently longer.
REEM is a humanoid service robot built to act as a receptionist, provide entertainment, and even give multilingual speeches. It can even perform a variety of office chores like taking out the trash, watering the plants, or delivering packages. REEM can navigate on its own throughout the office and can even help workers carrying items in and out of the parking lot. A battery pack keeps REEM online throughout the workday.
Pepper is a humanoid robot that can sense human emotions. It's designed to interact with a human and display its own emotions in return. It reads facial expressions and listens to the words used and then responds appropriately. Pepper could assist workers in multiple ways. Sometimes employees need to bend someone's ear without fear of retribution. Pepper could also be used in hospitals or nursing homes to listen to and talk with patients.
Specialized Service Robots Improve Human Life
Not all service robots have to look human. Leka is a service robot shaped like a ball designed for special-needs children. It has a display with a face that changes expressions. Sounds, lights, and colors help to engage children with learning disabilities. Children can even play customizable games centered on color identification, picture matching, and more. It's not just a toy, but assists with the development of special-needs children.
Robots inspired by mobility are close to appearing in everyday life. The term "bugged the room" will make even more sense when actual insect-inspired service robots enter the building. The robots can even stand on water. When equipped with surveillance technology, these robots can hide anywhere for surveillance applications. A self-driving service robot called the Pitch-R will help sports venues and municipalities paint lines for football, baseball, or soccer matches with exact dimensions.
The Café X is a fully automated, robot coffee bar. Businesses, building lobbies, and kiosks could soon offer expertly prepared lattes without the need for a human barista. Likewise, the Moley Robotic Kitchen is a cooking service robot that can pull from a vast number of recipes to prepare perfect meals. It even cleans up after itself. Buildings that have no room for a restaurant can still offer gourmet meals to tenants.
Service Robots
This content is part of the Service Robots curated collection. To learn more about Service Robots,
click here
.