The Future of Aerospace Automation
Automated drilling has been a mainstay of aerospace manufacturing for years – but now, systems and applications are becoming more diverse. Quality control, welding, coating, and more are increasingly falling under the purview of sophisticated automation systems.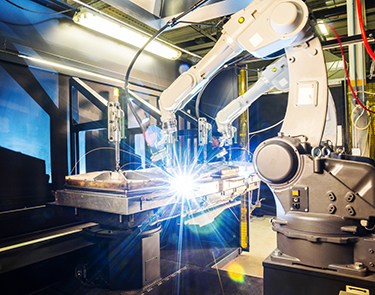 What's Driving Newfound Interest in Aerospace Automation?
Although the aerospace industry has been responsible for staggering advances in engineering and basic science, new manufacturing methods struggle to catch on. The immense importance of safety, coupled with strict regulations, inspires a conservative approach.
But aerospace is at a crossroads: Many major brands are struggling with enormous backlogs.
To cope with this vast and growing challenge, industry leaders are taking a new tack.
From more conventional automated drilling, companies have been pressed to embrace a range of automated surface preparation technologies. New technological developments are now addressing industry demands in a way that may create a "perfect storm" of innovation.
Broadening Automation's Scope is the Order of the Day
It's impossible to overstate how important automation has been in facilitating faster and more precise drilling – each aircraft has countless holes that must be flawless. In the near future, however, automation will become the solution to more sophisticated challenges:
Throughput – executing on outstanding orders faster and with less waste;
Quality – delivering more effective components with easier maintenance;
Ergonomics – ensuring all aspects of design respect the human factor;
Safety – maintaining the industry's tradition of overall safety excellence.
The trend toward intensive robotic surface preparation is a great example. Automating painting, sealing, and final coating, aerospace companies can secure materials savings of up to 50% per aircraft. Reduced waste translates to a lighter, more aerodynamic fuselage.
This, in turn, positively impacts the craft's performance characteristics and cost of ownership.
Aerospace Automation Has a Long Runway – But It's Ready for Takeoff
Due to unique requirements of the aerospace industry, relatively few OEMs and integrators are fully prepared to deliver "end to end" automation systems. Even the simplest task is complicated by the unique properties of the materials used in every aspect of aircraft.
Materials handling, the next frontier of aerospace automation, still faces many challenges.
Collaborative robots that work closely with human counterparts are being embraced as one quality control solution. Ultimately, robotic systems are seen as the answer to repetitive, ergonomically challenging tasks – leaving highly trained aerospace experts free to oversee processes and perform the expert craftsmanship that defines industry excellence.