Service Robots Improve Defense Industry's Safety Standards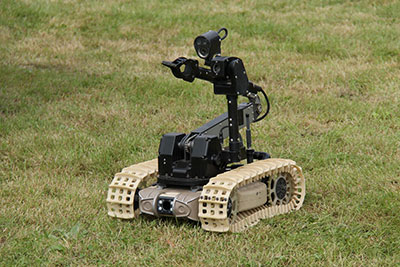 Service robots are ready and able to take on the dangerous and dirty work of the military. Since the military is never sure of what they're going to encounter on a mission, service robots can be sent into dangerous situations to keep soldiers at a safe distance.
Military service robots are able to assess a chemical, biological, and radiological threat by scanning for chemical agents present. Remote-controlled machines make use of infrared vision, multiple cameras, floodlights, and mechanical arms to find threats.
Service Robots Take on Hazards
Robots are being used to safely navigate mine fields and trenches. Even long after hostile situations have ended, these hazards can pose danger to soldiers. Mobile, robotic arms travel into the field to locate, handle, and destroy hazardous objects.
A mine-clearing line charge is used to clear a path for an assault breacher vehicle (ABV) to fill in tank trenches. As it travels the field, it marks the path with stakes. The second ABV follows the path and uses a blade to fill in the tank trench behind the minefield. Once the ditch is filled, forces can move in as needed.
Service robots are often used for military transport. They can be used to move heavy equipment for military personnel in the field. Other service robots are used to patrol borders and alert military personnel if a threat is detected. They can also be used to search through debris and retrieve wounded soldiers.
Concealing Electronic Signatures
In situations where soldiers need to take cover or be hidden, a service robot can be used to deploy a smoke screen and create a visual barrier. However, a smoke screen isn't enough to conceal the presence of the electronic signatures of the service robots.
So, soldiers try to hide the robots and other equipment by emitting a larger signature elsewhere via radio traffic and other signatures. This method wouldn't work effectively if there was visual contact, but it's effective for scanning equipment and sensors.
Service Robot Training and Operation
Soldiers can often become proficient with the service robots in less than a few days. Many of the controls systems can be adapted to work with standard video game console controllers. Currently, most service robots are not fully automated because of concerns with security.
The army is considering adding more autonomy to relieve the burden of manned crews. As encryption and transmission methods improve,steps are already being taken to figure out how to adapt the capabilities into a modernized force, whether it's by upgrading the current military fleet or deploying new vehicles.
If you're looking to learn more about service robots, meet an RIA certified integrator to discuss what you're trying to achieve.
Service Robots
This content is part of the Service Robots curated collection. To learn more about Service Robots,
click here
.