Robotiq Explains ISO/TS 15066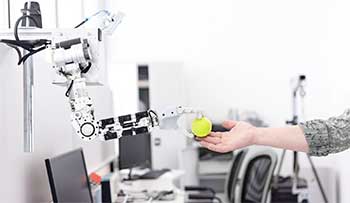 Interested in ISO/TS 15066, the groundbreaking new standard in collaborative robotics safety?
If you are, Robotiq provided a great summary of everything you need to know about the new technical specification.
ISO/TS 15066 is a huge step toward meeting one of the most important emerging needs in the field: Robust, universally applicable safety guidelines for collaborative robotics. Thanks to this detailed and practical document, humans and robots can safely work more closely than ever.
Per Robotiq, ISO/TS 15066 has plenty of information anyone in the robotics industry needs. Its biggest contribution: Truly comprehensive guidance for performing risk assessment in the development of any recognized collaborative robotics system.
ISO/TS 15066 – The International Collaboration That Changes Everything
Experts from 24 nations came together to develop the new standard. Institutions around the world worked diligently to create clear guidelines for every step of the collaborative robot design process.
Readers will find all the following important information:
Pain Onset Level data;
Maximum permissible speed and power for robotic systems;
Design criteria and clarification on collaborative robotics;
Techniques for collaborative operations.
Today's robot engineers recognize that if humans and robots are allowed to occupy overlapping workspaces, some incidental contact is bound to take place. One of the fundamental ideas behind ISO/TS 15066 is that if it does happen, it should inflict no pain on the human collaborators.
To make pain prevention an unambiguous part of collaborative system design, researchers at the University of Mainz have released centralized guidance on allowable force and pressure levels for robot-to-human contact – also part of ISO/TS 15066.
Robotiq Has the Inside Word on ISO/TS 15066 for Anyone in the Robotics Industry
The ISO/TS 15066 standard will be indispensable for suppliers, integrators, tooling manufacturers, and many others in robotics. It builds on 2011's release of ISO 102181 and ISO 102182, which established fundamental safety requirements for industrial robots.
Experts need to understand how the standards apply to them.
Luckily, Robotiq has stepped in to make it a little bit easier. Members of the Robotiq team spoke to distinguished members of the ISO committee that authored the standards. They've taken the resulting insights and distilled them into a handy introduction to ISO/TS 15066.
Anyone with an interest in ISO/TS 15066 can read Robotiq's article here.