Robot Therapy Dog to Offer Comfort to Dementia Patients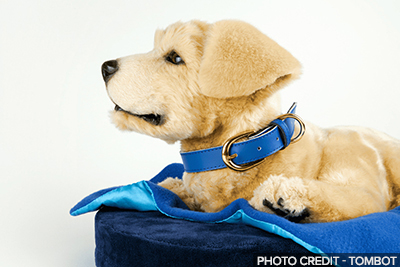 A service robot in the form of a robot therapy dog named Jennie can now offer comfort to patients who aren't capable of caring for a real pet. The Labrador puppy with fluffy golden fur and a wagging tail provides companionship to patients suffering from debilitating health issues.
The Science Behind the Robot Therapy Dog
Dogs have been shown to help patients reduce stress, anxiety, and depression. They can help combat loneliness, and being a pet owner can even lower blood pressure and lower the risk of heart disease. Many pet owners are devastated when they realize they are no longer able to care for a pet.
Jennie was originally designed to meet the needs of seniors with dementia. Many older people struggle with loneliness and isolation, but those with dementia say they are especially lonely and have lost friends. Research from UCLA shows that animal-assisted therapy has significantly decreased agitated behavior and increased social interaction.
Patients with dementia, Alzheimer's, or autism can find themselves in a confusing and frustrating situation. They may unknowingly train a dog to exhibit poor behavior by reinforcing its actions. Or they may be nervous around caregivers. Jennie, the robot therapy dog, has helped patients to relax in such stressful situations.
How Jennie Works
Jennie is 20 inches long and weighs 5 lbs. She's covered in sensors and has 16 motors to help her move realistically. Jennie knows where and how she's being touched. She knows the difference between a simple touch, a slow caress, a vigorous pet, and being held. She responds to voice commands when her name is used. And she knows if she is picked up and moved. She can even go to sleep.
Capabilities of Jennie, the Robot Therapy Dog
Even though a robot therapy dog isn't technically real, patients are still about to cuddle with it. They look into the service robot's cute eyes and lifelike expressions and can't help but smile. Many can develop a real connection with the robotic pup.
Not only does Jennie have the look and sounds of a real dog, but she can respond to touch and provide unconditional love and emotional support for her owner. Like other connected service robots, Jennie can download new software when updates are available. She is meant to be a lap dog as people with dementia could trip over Jennie if she was able to walk about. Jennie may even be able to help others in the future, like people who are afraid of dogs or families with small children.
Learn more about the application of professional service robots by visiting the Service Robots information at Robotics Online. Photo credit - TOMBOT.