Robot Bird Designed to Keep Airspace Safe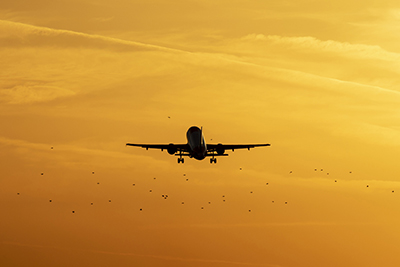 Next time passengers are out on the tarmac they might look out the plane window and see a robot bird. It's an idea that aerospace engineers think might work to keep planes safe from real bird strikes. How would adding a robot bird to the skies be effective in preventing bird strikes? And can the technology be used outside the airport?
Airports Attempt to Stop Bird Strikes
Birds love airports. They're wide open spaces and often have plenty of food, water, shelter, and nesting areas. Unfortunately, birds often collide with aircraft, sometimes ending up in the jet engines and causing severe damage. In fact, bird strikes cause billions in damage to aircraft each year.
Engineers and scientists are leveraging what they know about how flocks of birds behave and use airports - whether nesting, foraging, or resting - to weigh their options. They can either modify the bird habitat, modify aircraft, or control the birds. Because wildlife protection laws make the first option difficult, and the second option is costly and also just as difficult, engineers have created the robot bird to help mitigate the damage and protect our feathered friends.
Robot Birds Change Bird Behavior
Airports utilize pyrotechnics, long-range acoustic devices, and lasers in an attempt to ward off birds. But once the birds are in flight, these methods do little to encourage birds to move along. That's where the robot bird takes over.
The robot bird can help to trigger the instinct of natural birds to take flight. With its lifelike silhouette and movement, it can both lead and chase off birds that attempt to stay at the airport. The robot looks like a bird, weighs about the same, and even behaves the same, emulating the flight patterns of many birds of prey.
Falconry has been used in the past to control bird populations around airports. But the robot bird doesn't need training, food, or rest. And it's far more obedient than a falcon. The robot bird also outperforms other methods for bird control. Lasers don't work with all species. Many birds become accustomed to air cannons, pyrotechnics, and predator calls once they discover there is no real threat.
Airports are not the only application for the robot bird. Industrial environments like waste management, dredging, and construction also often draw birds. Open spaces like farms, harbors, and windfarms also see birds as a nuisance. The robot bird can be effective in any of these areas where birds might congregate.
For information about the many types of service robots for professional applications, visit our Service Robots educational section.
Service Robots
This content is part of the Service Robots curated collection. To learn more about Service Robots,
click here
.