Revolutionizing Smart Manufacturing at CRAV.ai 2019 Conference
Tweet This:
The #Collaborativerobots, Advanced Vision, & #AI (CRAV.ai) 2019 conference will teach attendees about these growing, dynamic technologies. Register Now: https://ecs.page.link/fxYrR
#Collaborativerobots are able to watch what a human operator does, learn the task, and perform the same task with precision. Learn more at CRAV.ai 2019: https://ecs.page.link/fxYrR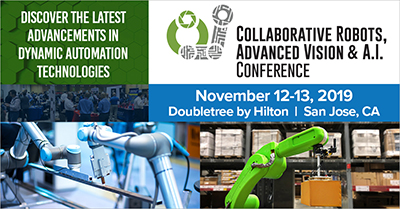 Smart manufacturing has the potential to redefine the existing competitive landscape and create a new set of market leaders. Companies that don't soon adopt technologies like artificial intelligence, automation, and vision technology could quickly be left behind.
Smart Manufacturing Technologies
Companies should be constantly investing in and exploring the implementation of smart manufacturing technologies. These technologies generate data, accept data, or both, which is used for analysis. Data analysis makes production efficient, transparent, and flexible.
Some prominent technologies and solutions in smart manufacturing include:
Artificial intelligence
Blockchain in manufacturing
Industrial internet of things
Robotics
Artificial Intelligence and Industrial Robots in Manufacturing
Artificial Intelligence is not a new concept, but it has recently found new applications in manufacturing. AI only works if data is available, and only in recent years has it been possible to generate huge amounts of data with low-cost sensors, store data in low-cost systems, and process data at affordable rates.
Industrial robots have been used for decades, but in recent years, robots have become far more intelligent. Robots are connected with sensor networks throughout the shop floor. The data collected by the sensors lets robots change their actions as needed. Artificial Intelligence has been added to robotics systems, resulting in autonomous systems.
Collaborative robots are able to work alongside humans and support the work done by humans. Collaborative robots now can even watch what a human operator does, learn the task, and perform the same task with precision. Collaborative robots were only supposed to complete light work but are now capable of completing heavier jobs that were at one time only performed by industrial robots.
CRAV.ai Conference 2019
The Collaborative Robots, Advanced Vision, & AI Conference presented by The Association for Advancing Automation will teach attendees about these growing, dynamic technologies. Visitors will have the opportunity to connect with suppliers at the exhibition and will leave with actionable insights to advance their businesses.
The conference includes three tracks with sessions on robotics, advanced vision, and artificial intelligence. The tracks will teach practical solutions from industry experts. Conference-goers will discover new opportunities for emerging markets. Attendees will also get to experience these dynamic technologies first-hand and get immediate answers to their questions.
Who Should Attend CRAV.ai
Engineering and manufacturing personnel who want to reduce costs, improve quality, and advance productivity are encouraged to attend. The conference also benefits experienced users seeking new applications, those who want to see how AI is advancing robotics and vision technology, and users who want to know if robotics, vision, and AI make sense for their companies.
Where CRAV.ai is Being Held
CRAV.ai will be held at the Doubletree by Hilton in San Jose, CA on Tuesday, November 12 and Wednesday, November 13, 2019.
Learn about new developments in smart manufacturing. Register for the Collaborative Robots, Advanced Vision & AI (CRAV.ai) conference.