How RIA Membership Aligns Benefits With Member Types Looking to Grow Their Businesses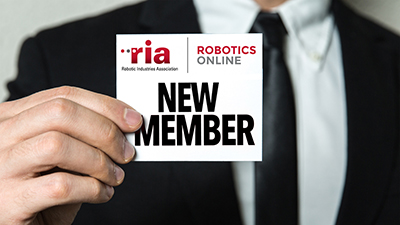 Now that 2020 is here, it's the ideal time to consider joining RIA as an official member, or renewing your membership if you've been with us in previous years.
RIA membership helps all kinds of businesses with ties to robotics and automation get connected each year. Because each company in and around the robotics industry is different, the Robotics Industries Association offers a number of distinct memberships to fit each business's specific needs.
By joining, you can measure the impact your membership has on your business throughout the entire year. Your organization can also benefit from the whole year's planned curriculum, events, and content.
Robot Suppliers
Robotics and other automated solutions wouldn't be possible without manufacturers. An RIA membership lets the market know that you're a trusted supplier of industrial robots, components, or peripherals. Membership can get you in front of qualified buyers that are actively searching for the solutions you have to offer. Get substantial tradeshow and conference display opportunities to make sure you're always out front in the industry.
Robot System Integrators
If you help customers design, build, and implement automation and robotics systems, RIA membership will help you prove your expertise to potential customers. Get access to ongoing training that will help keep you an expert in your field. Receive targeted opportunities, including a free tabletop exhibit at the International Robot Safety Conference.
Robot Users
Protect your automation investment with an RIA membership. You'll connect with industry experts, have access to the best resource archives, and learn from the extensive educational opportunities available on Robotics Online. You made a massive investment in your robotic automation system, so be sure to have a successful deployment and ensure a continued ROI. Also, members get discounts on trade show sponsorships and advertising rates on Robotics Online.
Robotics Consultants & Affiliates
One especially popular benefit for members is access to other organizations, empowering you to find your next robotics consulting opportunity. An RIA membership can help you grow your business and establish your industry reputation. Robot users all over the world need experts to help them reach their goals. Make new connections, share your expertise, and create new business opportunities.
Robotics Educators & Researchers
Additionally, RIA is committed to education for the robotics industry. If you're part of a technical institution, university, or government agency educating robotics research, this is the membership for you. Your RIA membership can help you get the recognition and support you need for your program. Connect with industry leaders from around the world who can fund your research and education initiatives.
Become a member of RIA and start connecting with the Global Robotics Community today!