Flexible Robots Tackling the Thankless Jobs at Home and Work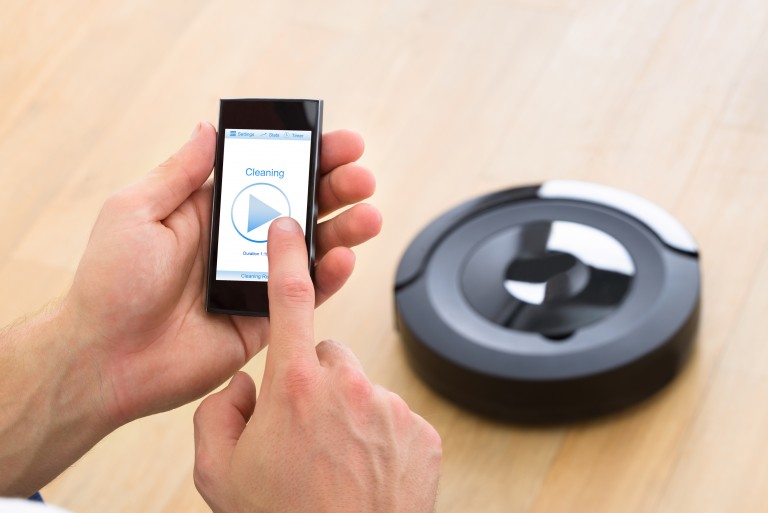 Scrubbing and mopping floors is a thankless chore, so it's no surprise that an automated solution is on the market for cleaning floors in the kitchen, bathroom, and anywhere else a thorough scrubbing is needed. Robotics is making its way into the home although the market still has products that are more fun and frivolous rather than practical. Thanks to software and sensors, though, getting the floor scrubbed while you tackle other items on your to-do list is now a reality.
Increased Capabilities to Perform at Home
The latest robotic creations were big stars at the recent Consumer Electronics Show (CES) in Las Vegas. Building them to function has been challenging for robotics makers. An article on TechCrunch.com, From AI to Robotics, 2016 will be the Year that Machines Start Taking Over, notes that, "Cleaning a room and folding laundry necessitate software algorithms that are more complex than those [needed] to land a man on the moon."
Despite the complex technical requirements, some member companies of the Robotic Industries Association like ABB, Universal Robots, and Rethink Robots are introducing robots that have such a high degree of dexterity that they can thread a needle.
The other challenges that consumer robotics have faced is that many products being introduced to the market aren't practical, but they are fun like CHiP the robotic dog made by WowWee. It responds to commands, plays fetch and soccer and can learn new tricks thanks to a mobile app.
Robotic dogs may not help you around the house but the technology shows how collaboration between people and machines can be accomplished with software, sensors, and machine-to-machine communication. So enter a robotic cleaner.
The Scooba Floor Scrubbing Robot 450 Series from iRobots deep cleans up to 300 square feet and has one compartment for clean water and another for the dirty water. The little machine uses the same iAdapt technology found in its companion, the Roomba vacuum cleaner. It has the flexibility to move in an unstructured environment and shows that we can expect more robots like this in the near future.
Ease of Use to Perform at Work
The growing use of household robots reveals the popularity of small and flexible robots for both the consumer and industrial markets. The market is expanding rapidly.
Just two years ago an article on the Robotic Industries Association website, Robotics in 2014: Market Diversity, Cobots and Global Investment, noted that collaborative robots were changing the landscape. Robots were "getting smaller [and] able to handle more complex and intricate tasks" enabling end users in the semiconductor and the electronics market "to tool their factories with automation because the robots are more capable."
The ease of use is a selling point. To see how to integrate a collaborative robot in a small shop, watch the video, How to Integrate a Collaborative Robot in Your Shop, in the video resource section on Motioncontrolonline.org.
In less than two minutes, the video that's produced by Robotiq shows the steps needed to set up a cobot from Universal Robots and a two-finger gripper.
Just like their household cousins, collaborative robots are becoming easy to install and use. Look for a flexible robotic future both at home and at work. An excellent place to learn about cobots is at the upcoming International Collaborative Robots Workshop 2016, May 3-4, at the Hynes Convention Center in Boston.
Stay on top of the robotic trends that can improve your productivity. Plenty of free resources and information on membership in leading automation are available through A3.